Drawing their name from the story of an 18th-century shoemaker in their hometown whose violin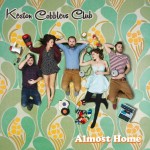 performances in the local tavern helped him drum up business, and continuing to record at the home of the parents of band members Julia and Matt Lowe, Keston Cobblers Club's down-to-earth approach is reflected in a new set showing a perhaps more stripped-down take on their joyous folk sound.
The homespun ethos continues with a video to the title track and lead-off single centred around childhood memories and the signature twinkling charm present since early offerings such as 'You-Go' remains, with 'Bicycles' and 'Demons' providing early highlights amid frequent embellishments from the trumpet and tuba which have helped shape the Cobblers' unconventional sound.
Vocal duties are shared around and there are plenty of other instruments besides, from accordion and fiddle to anything that can be shaken or hit to produce a sound – that video for 'Almost Home' features tubist Bethan Ecclestone "playing" a plastic pineapple – while 'On Your Own' features a rhythm reminiscent of African kwassa kwassa music (as famously Westernised by Vampire Weekend) and the ludicrous 'Winning' can hardly fail to raise a smile.
But by mixing in more ruminative moments such as 'Martha & Giles' and probably the album's highlight, the lovely 'Forest Hill', the Kent quintet – completed by Tom Sweet and Harry Stasinopoulos – have created an album of depth and substance which concludes with the beautiful 'All I Need'.
Their rambunctious style may be best appreciated in a live setting and as luck would have it, they are touring the album throughout April before heading out again during festival season this summer – catch them if you have chance, and be on the lookout for any of their impromptu "shoes off sessions" en route.
Words: Tom White