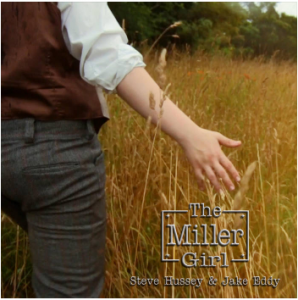 The tales that spin around this Earth come and go in spurts—an ebb and flow of good and bad times that surmount one another with the turn of a season. The end product is a continuing spiral towards confusion and convolution in our world societies, and people often turn to music for the purpose of healing. Enter the innocence and kindliness of renowned songwriter Steve Hussey's latest record, laden in the warmth of a traditional bluegrass hearth and refined with the assistance of precocious multi-instrumentalist Jake Eddy.
Proclaimed by Hussey as a record full of songs so sweet that they are "almost revolutionary" for these "increasingly scary, dark, and confusing times", one good listen would beg the listener to find a means of disagreeing with him—mostly because he's right and it would be a fool's errand. Described as a concept album in which a man finds himself lost before finding love, The Miller Girl was originally a one-off track project between Hussey and Eddy before evolving into a 10-track full-length record. The keyword here is "passion" for these two West Virginian music artists, and it's abundant straight out of the gate and on through to the album's conclusion that they've got it in spades.
Songs like "I Pick You" and "The Miller Girl" evoke a feel-good emotion similar to early Avett Brothers songs along the lines of "January Wedding" and "If It's the Beaches" and may fill the void that avid listeners of the North Carolina outlet's records have been missing as they've been veering more into the lane of pop with recent efforts. Though Hussey has written and sings all of the songs present on the record, Eddy deftly provides accompaniment across acoustic guitars, ukulele, banjo, mandolin, ukulele, upright bass, and dobro, offering an extra layer of consummate musicality to proceeds. Together, the duo are inimitable, and one would hope that they pursue future records together.
For more information on Hussey and Eddy, including on a solid place to purchase The Miller Girl, visit their Bandcamp page.
Words by: Jonathan Frahm