This is a work of art. Now, I'm aware that with the proliferation of music in this modern age, records are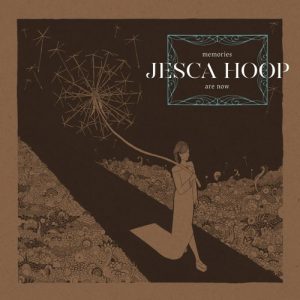 often lauded before being forgotten about when the next 'big' thing comes around. It is unclear whether Memories are Now will buck this trend on a wider scale, but to this writer, the songs Jesca Hoop has crafted have been etched into my brain for weeks, be it the deft plucking on 'The Lost Sky', or the way that Hoop sings 'Controoooool' on 'Animal Kingdom Chaotic'. This is Hoop's 5th record, and it is undoubtedly her best one yet.
The genres covered by Hoop don't stray too far from the looping of the acoustic guitar, but it is in the melodies where the music really shines here. Hoop's vocals are often layered over each other to create the effect of a choir, or to add backing to the main verse. 'Simon Says' is, structurally, a difficult composition. The elements of tambourine, guitar, front and backing vocals reads to be claustrophobic to the listener, but is anything but. It seems like carefully constructed chaos, and provokes in the listener a sense of joy.
Lyrically, the theme central to Memories are Now is one of technology; or, more succinctly, how technology is shaping our thoughts and memories in this digital age. 'Cut Connection' is a case in point. 'Be the drummer in my heart' has many different meanings. Could the beating of Hoop's heart be the result of a new love affair? Or is the drumming the repetitiveness of digital media, the incessant loop of read, like, repeat? Hoop's rushed delivery on 'Unsaid' alludes to a breathlessness felt in the first throes of love, although this is peppered with Hoop's magic realism. 'Come on/lets not get mad/show teeth/say things we wish could be unsaid'. The amount of hidden meaning within a single line displays how talented Jesca Hoop is at creating an interesting world for the listener to lose themselves within.
Art is often said to be something, to paraphrase, whereby you can find yourself and lose yourself at the same time. There is certainly lots to find within Memories are Now, and it is plenty easy to lose yourself to the brilliance of Hoop herself. Time will tell, but this record should be lauded for being a work of beauty, and, indeed, a piece of Art.