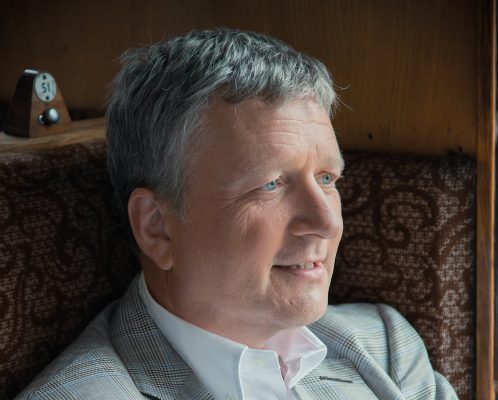 Glenn Tilbrook likes company, this much is clear. Chris Difford is his most famous companion, the two being one of the most celebrated British songwriting partnerships – card-carrying members of the New Lennon and McCartney Club. When not writing with Difford, Tilbrook has played and written songs with an array of other artists. In between times he's backed himself with a band called the Fluffers (functional company is still company, right?) I even saw him play a 'solo' set at Glastonbury with his five-year-old son accompanying him on bongos. So he's a sociable chap. Which is why it's all the more enjoyable to see him genuinely on his own – just him, a guitar and a cup of tea – playing selections from his back catalogue.
Tonight he cheerfully mixes up Squeeze favourites – all the ones you remember, but 'Take Me I'm Yours' and 'Pulling Mussels from a Shell' are particularly on the money – with more recent solo compositions as well as some interesting covers. 'Wichita Lineman' is an ambitious selection for a Saturday night crowd, albeit a slightly careworn, ale-drinking one (I include myself in this) but Tilbrook pulls it off.
Notable with the older Squeeze material is Tilbrook's decision to play his original guitar parts without extra rhythm to beef them up. As an approach this works surprisingly well. The Squeeze hits already live somewhere in the back your head; the brain can fill in the other parts, no problem. And tonight the crowd happily contribute backing vocals, even attempting to 'sing' the drum fill at the start of Up The Junction, which prompts a pitying but kindly chuckle from Tilbrook.
The irony is that Tilbrook needs no company to be entertaining. He shows the dexterity for some wonderfully inventive guitar lines and that clear, soulful voice easily finds its way around Difford's (and Tilbrook's own) tongue-twisting lyrics. It's a reminder that there are few frontmen around as genuinely multi-talented and that he remains fine company for an evening, accompanied or otherwise.
Words: Dan Farmer
Photo: Rob O'Connor