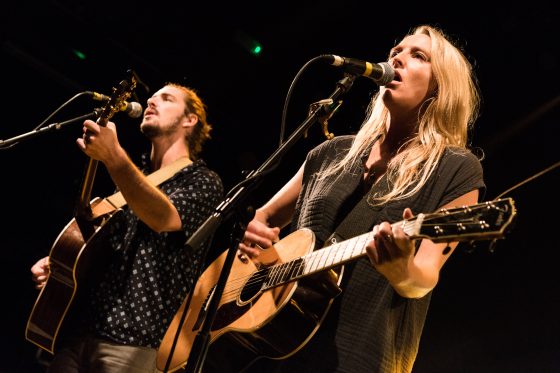 The last time I saw Lissie play it was a dreary Tuesday night in Dingwalls some three and half years ago. I was pretty disappointed about a pretty dismal gig. This Tuesday night, also in Camden (but KOKO, a much prettier venue by far), I was cautiously optimistic. Lissie makes fantastic music, right on that border of Rock and Country, without straying too much in either direction. Last time must have been a blip. Everyone has off days, right?
And so right I was. Tonight's gig was pretty much flawless. Every song was unique, individual. Everything on point. Lissie's voice filled the theatre beautifully. The sound was great. The lights were great. The crowd was great. Even the support was great: Teddy Thompson. A Brit with a handful of albums under his belt, and very much in the vein of Lissie… a little bit rock, some folk, but a fair helping of Country. At some point he wryly admitted having written a Country album once, perhaps referring to his current album which hit the top spot on the UK Country chart when it was released earlier this year. He also has an album full of Country covers in his repertoire, and he played one particularly good song from it, 'Change of heart'. This was followed by a heartfelt rendition of the title track of his second album, 'Separate ways'. Well worth a listen. Thompson closed with a tribute to his acquaintance Leonard Cohen who of course passed away recently: 'Ballad of the absent mare'. Fittingly, this song is also from a Country album Cohen wrote once.
Lissie graces the stage after a short break, during which I examined the audience. Definitely a higher than average age, plenty of white hair. One thing that struck me immediately: nobody was watching the performance through the medium of a mobile phone. Incredible, these days. Lissie is well known to these London crowds: she's been coming here for nearly a decade, since before her debut EP came out. She has a strong following, and they made their welcome very warm. Kicking off with a track from new album My Wild West, she sings "I could've been a hero, I could've been a zero, could've been all these things. I could've been nothing, I could've been bluffing, could've been all these things" which seems to epitomise her recent uncertain state of mind. Next up is a song I heard debuted at that gig three years ago: 'Further away (Romance police)'. I remember liking it at the time, and I still like it. It reminds me of an 80's power ballad (and I say that in a good way), particularly the studio recording. Three more songs from the same album follow… 'They all want me', 'The habit' and 'Shameless'. I'm hooked at the first of the trio, and by the end I'm fully immersed. So many catchy choruses and refrains. 'Shameless' is Lissie thumbing her nose at various quarters of the music industry (and celebrity life in general). It's a bit rockier and pop-ier than what has gone before. The chorus is: "I gotta keep my identity and focus what I can do. I don't want to be famous if I got to be shameless if you don't know what my name is (So what? so what?) I don't know what this game is cause I'm not even playing it." Lissie has never been one to hog the limelight at any expense, and her lyrics show her clear intent to continue in that fashion.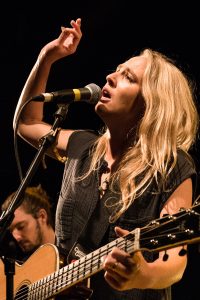 This has never been clearer than now. She takes a moment to explain how she's just been through a period of disillusionment, where she didn't know what to do next, didn't know what direction to take her music career in. This led to her leaving her adopted home in California, returning to her native Iowa, and buying a modest farm. It also led to her latest album, which hit the UK Top 20 recently. She plays a slower track from that album now, 'Sun keeps risin'', which talks of being in a better place. Then it's back to the classics 'When I'm alone' and 'You make me feel' — anthems both — and 'Bully'. Newer song 'Daughters' is inspired by a documentary on the Liberian civil war, 'Pray the devil back to hell' and in aid of the 'charity: water' movement to empower women in Africa by taking away the burden of having to find water. The first cover song of the night is seasonally appropriate: 'River' by Joni Mitchell. Lissie's guitarist Nick Lotto prefaces it with a snippet of 'Jingle bells' to get us in the mood.
Closing out the set, we're treated to fairly new tune 'Don't you give up on me' and running out of time, Lissie goes straight into 'Oh Mississippi', an older song penned with songwriting genius Ed Harcourt. Final cover of the night honours Bonnie Raitt, with Lissie's distinctive version of 'I can't make you love me'. The applause following it is hearty and lengthy, and Lissie and Nick milk it as much as possible, returning for two final songs: 'Ojai', a farewell lament to Lissie's southern Californian home and old favourite 'In sleep'. This features an epic guitar solo from Nick, and gets the entire audience moving. The crowning moment to a fantastic evening that did wonders for banishing any doubts I had.
Words and photos: Paul Woods (@paulwoodsphoto)