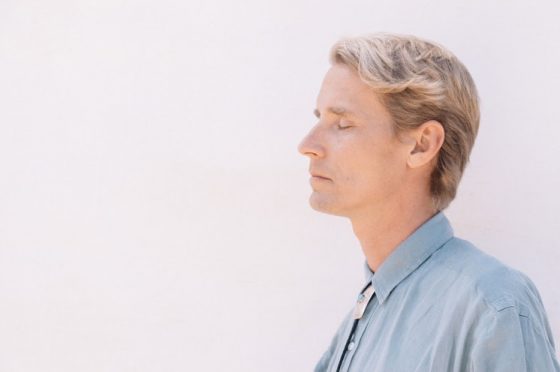 Space, place, and time clearly matter to Tom Brosseau. That is why the Albion Beatnik was a fitting space for his thoughtful and gentle performance on the 22nd of October. The Oxford bookstore describes itself as "enthusiastic" and "eclectic", and it was comfortably packed to capacity with listeners of the same variety. Friendly discussion amongst listeners new and old; a warmly lit, book-filled room; a great opening performance by Ally Craig; and the drinks and "flash fiction" performance at intermission engendered a moment in time and space that may help one get a sense of the untranslatable Norwegian word hygge. Mr. Brosseau mentioned his Norwegian heritage during the performance, and this warm, connected feeling on a crisp October night felt serendipitously right.
Mr. Brosseau played very few songs from North Dakota Impressions, his latest album, even though he may be on the road to promote it. The songs he did play, 'A Trip to Emerado' and 'The Horses Will Not Ride, The Gospel Will Not Be Spoken', are likely the most explicitly situated in his native Northeast North Dakota on the album. His rich lyrical sketches, sturdy warble, and expert finger-picking immediately transported me these places. This experience was bookended and buttressed by mighty fine story telling about a few "great local person[s]" (his words); adding concreteness and nuance to the impressionistic feeling of the music. Mr. Brosseau's previous song writing ensures that he could have continued to take us on a musical tour of his home, but he had a different itinerary.
In the spirit of Halloween, All Souls Day, and Samhain we paid visits to more macabre times, places, and people. Mr. Brosseau's renditions 'Rope Stretching Blues' by Blind Blake and 'Don't Forget this Song' by The Carter Family provided cautionary tales and untimely ends that gave the first set an enjoyable spookiness. The second set was a bit warmer. His performance of a request of his song 'Stuck on the Roof Again' reminded us of the joys of his earlier work, but this show made it seem that Mr. Brosseau is mostly moving forward by looking back. His version of the 1890s smash hit 'After the Ball' by Charles K. Harris made clear his commitment to preserving the traditional music of the United States. By the end he had the crowd singing along the classics 'Goodnight, Irene' and 'Bye Bye Blackbird' to a degree that might earn him a MacArthur Fellowship.
On a final note, Mr. Brosseau embodies the aesthetic of his music – modest, civil, neighbourly. My companion at this concert wondered to what degree this persona is performance, but for me, the answer to this question doesn't much matter. His way of being at the show helped me to tease apart how history and place shape my contemporary life experiences. His music and performance took me on a bird's eye view tour of other times and places and returned me back to the Albion Beatnik with a new perspective.
Words: Paul Kellner