Tanner Porter is an artist who can capture the listener's attention with ease. Her voice can reach far and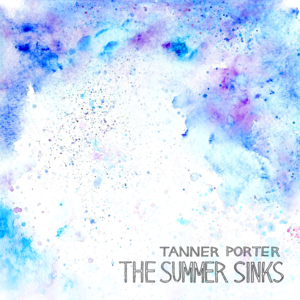 wide and The Summer Sinks… is a good representation of her abilities and potential to grow and blossom. It isn't perfect but it takes its influences and becomes something of the artist's own, a peaen/homage to folk and all of its ancestors.
The concept album starts with the dark and moody tinkering of instruments before Porter's stunning birdlike voice enters, like wings flapping. The flurry of strings like tiny little waves continues behind the voice and it's a compelling opening. Attention captured, indeed. The clarity of voice on second track 'First Car / City At Dusk' and the folkier details display a woman with confidence, reaching out, taking your hand and leading you the way she chooses. Towards the end of the track there is a brief moment where her voice dances a lovely little dance. For folk fans, you are in the right place, no doubt.
Her voice, capable of soaring, takes charge across many stages of the record, but to these ears it is never more powerful than when it is a little more contained, hushed and mysterious. Having the range to play with is, of course, something more singers undoubtedly wish they had too. For example, 'Morning Song' is absolutely spellbinding as her voice grows to the words 'and grows, and grows…' but never gets too loud or high. It's a fierce moment that has the power to make the hairs stand on end. 'Landlord' is another fine moment on an album that needs to be heard from start to finish in order not to miss any of the magic. If she gets better from here, well, she can go just about anywhere.
So, this is a woman with a voice that should be heard, with an ambitious song cycle in these 12 tracks and an ability to compose, voice, and also provide stunning artwork for her music. A talented lady whose future looks an interesting prospect. Don't miss out on good music just because there is a lot, and certainly don't believe people when they say this era isn't as good. People just get lost in a sea of mass digital music media. Porter is herself proof that there is great music being made and that whether it is widely known or not it's part of a magnificent era.