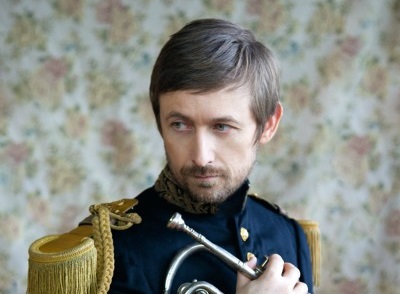 Tonight's performance from The Divine Comedy is one of two halves or, at least, two costumes. The first outfit that Neil Hannon sports is the bowler-hatted businessman, complete with folded umbrella and starched white shirt. Consistent with the outfit Hannon chooses a series of songs that explore his fascination with Britishness. This fascination is best observed on his brilliant early albums, Promenade and Liberation, which are drenched in the idyllic, romantic England of Forster and Wordsworth. Tellingly, however, these albums aren't represented tonight, save for the now traditional closer, Tonight We Fly.
Instead Hannon explores more modern British themes. 'The Complete Banker' takes apart the awful instigators of the financial crisis. 'Bang Goes the Knighthood' is its companion piece; a captivating explanation of the mores and immoralities of the British establishment. Cool Britannia anthem Generation Sex follows, snapping at feral tabloid culture. These are sturdy performances of enjoyable songs but something feels a bit stilted.
Not to worry: the second half of the set has a contrastingly European feel. Hannon, now dressed as Napoleon, sings of French girlfriends ('Frog Princess'), Russian rulers (recent single, 'Catherine the Great') and, improbably, early balloon travel in Italy (C'ount Grassi's Passage over Piedmont'). Hannon's five-piece band free him up from his usual duties of piano and guitar playing, but this isn't necessarily a positive. He seems a bit out on a limb, like a man in, well, a Napoleon costume who's turned up to what he thought was a fancy dress party but that turns out to actually just be a party.
While there's no disputing the quality of the songs, and despite Hannon's palpable efforts, tonight's performance is slightly lacking in character. The venue doesn't help – its marketing blurb describes 'a superb acoustic and unique atmosphere' but, tonight, the louder songs in particular sound muddy. The atmosphere isn't quite right either: the room, the crowd, even the band all feel a bit too polite for Hannon's tongue-in-cheek songs, literal dancing, fancy dress, toy horses and novelty drinks cabinets. Maybe the continental leg of the tour will feel a bit more relaxed and loosened up; more European, you might say, and less English.
Words: Dan Farmer