"It's trying to figure out how to responsible when you don't identify with who you were anymore"
Julia Jacklin leaves a life of working in a essential oils factory well and truly behind on a debut album which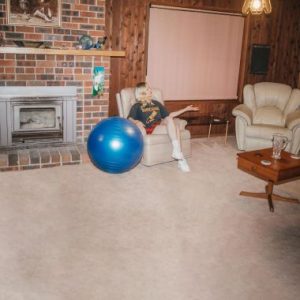 is mature, accomplished, direct in its approach and strong in both melody and song. Don't Let the Kids Win kicks off in powerful fashion with the two lead singles, 'Pool Party' and 'Leadlight'. "I love you my darling I do/But I can't promise to see this whole love through" she sings on the latter, to a 50s inspired backing and cutting vocal tone. The range of genres she covers across the 11 tracks is impressive, especially when you realise that at no point do the songs lose focus or meaning.
'Coming of Age' is here and gone before you notice but is none the poorer for it before the pace changes totally on 4th track, Elizabeth with a beautiful match of backing harmony and acoustic guitar. On 'Motherland', Jacklin sings berates herself about 'these new lines on my face/spell out "girl, pick up your pace". Inspired as a young girl by Britney Spears before discovering Fiona Apple after a spell travelling through South America, she returned to her home in the Blue Mountains with a love of Appalachian music.
Following in the mighty footsteps of her fellow countrywomen, Nadia Reid, Aldous Harding (both of which were produced by Ben Edwards, who produces this also) and Courtney Barnett, this is a rich time for Australiana music.
Bought up by teachers, Jacklin originally wanted to be a social worker and she uses this passion for community and family in her observational wit and blunt honesty. The closing title track was written after she realised that she was an adult when her sister announced she was getting married. "I can't believe we're already here" she's quoted as saying in an interview. With Don't Let the Kids Win, she's arrived both as a songwriter and musician who is definitely already here and here to stay too.
Words: Mark Buckley