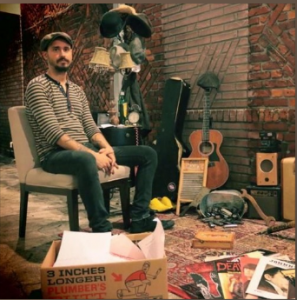 When it comes to folksters with unique stories, Alex Hernandez—the voice behind musical moniker Rocky Bottom—encapsulates something as weird and wonderful as some have caught on to expect from the scene's trademark wanderers. A move to Nashville from New Jersey saw Rocky Bottom shift sails from his punk roots into roots music, swirling together influences ranging from rock, soul, blues, country, and folk into a singular package reminiscent of something a troubadour like Dylan himself might have put out during his heyday.
His songs ring with an authenticity as it applies to the everyman, ranging through overarching theme of pride, heartbreak, travel, hard work, death, love, lust, and music as they all apply to his rendition of what it means to be chipping away at his own rendition of the American Dream. Marrying classic themes with a punk background and a working man's heart is an A+ for the Nashvillian performer, and Rocky Bottom is a name worthy of the boundless indie cred Hernandez is clearly going to begin collecting with tunes like the ones present on his debut album being churned out.
[soundcloud url="https://api.soundcloud.com/playlists/265443281″ params="auto_play=false&hide_related=false&show_comments=true&show_user=true&show_reposts=false&visual=true" width="100%" height="450″ iframe="true" /]
If you're a fan of the record, we encourage you to support local music by giving it a purchase over on iTunes!
Words by: Jonathan Frahm