Blossoms have no small dreams. They want success on the grand scale of like Oasis, the Beatles, and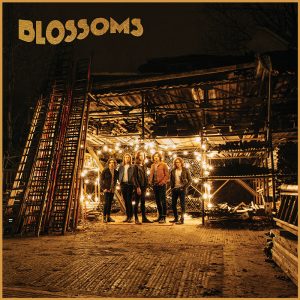 (dare I say it) Abba. On their first disc, they have the kind of radio friendly sound that's mature beyond their years. Yet they've taken their time since signing with Virgin EMI in 2014. Under the tutelage of The Coral's James Skelly, Blossoms have crafted an incredibly slick sounding rarely LP.
Taking their name from the public house in their native Stockport, they're being tabbed as the next great band to come out of the Manchester area. It's easy to see why. Tom Ogden's vocals cut through the combination of Josh Dewhurst's lead guitar and Myles Kellock's keyboards, while Charlie Salt's bass and Joe Donovan's drumming hold down a solid rhythmic attack.
Hearing these tracks bursting out of a radio they'll be tough to resist. Opener, 'Charlemagne', takes on a Fleetwood Mac vibe complete with Lindsey Buckingham-ish vocals and a guitar riff that grabs hold and won't let go. The introduction of 'At Most A Kiss' sounds like a first cousin to Blondie's Hold Me with keyboards talking the lead. Not bad company to keep if you're looking to grab a stranglehold on the radio.
'Getaway' scaffolds a relationship mired in decline. The push and pull of lovers, one aware of the end while the other still holds out hope against the inevitable heartbreak. The confident young man singing on 'Cut Me And I'll Bleed' turns out to be not quite so confident as he sings, "And I replay this is my mind to remind me I'm not lonely, but I don't know where you are, and I'm not sure If I'm your only one."
Poised for success with ¾ of a million views for the YouTube video of' At Most A Kiss' alone, Blossoms seem to have it all going for them. The rest is up to you.
Words: Bob Fish