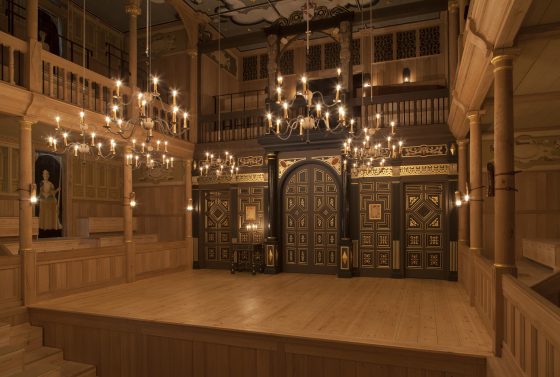 Four hundred years ago, on the banks of the river Thames, entertainers used to tread the boards of a theatre called The Globe. This week, at a site a few hundred yards away from the original, entertainers are still treading the boards at The Globe, bringing cheer and culture and a chance to dream to the people of London. The bill tonight boasts three young ladies, a quadrennium either side of 20; folk singers all: Flo Morrissey, Billie Marten and Rachel Sermanni. They have been brought together by Lauren Lavern as part of the "Wonder Women" festival, celebrating powerful and visionary women. And with no offence to Roisin Murphy or Camille O'Sullivan, this is by far the pick of the seven concerts.
For those who have not had the pleasure of visiting the Sam Wanamaker Playhouse, it's worth the ticket price alone. It's a garden shed on steroids: three levels, and lit by six chandeliers worth of candles. The ceiling is covered in a modern fresco featuring a painted Luna. The back of the stage is covered in gold-painted trompe l'oeils, giving the appearance of a grand, wood-panelled stateroom. Seating is on tiered benches, and the programme boasts of the venue's "body-to-body intimacy": you'll occasionally get a knee in the back, or the unwanted advances of your neighbour dozing off in the room's cosy warmth.
First on stage, appearing solo, is Flo Morrissey, the young London woman from a family as sizeable as the Waltons. She starts off with the introspective 'Show Me': "I think I do see my life … It's so different once it's been shown in its new light". Despite the public introspection, she seems a little uncomfortable that other people can see her, and moreover that she can see them, in the candlelit auditorium. Next is 'Betrayed' from her debut album, and fittingly for a room which is casting a yellow light over the notebook which contains her handwritten set list, 'Pages of Gold'. She sings with the voice of a subdued Fiona Bevan… flitting here and there fancifully, at least for these initial songs. 'Wildflower' introduces a darker note and a deeper tone, speaking of gallows and pain, making me wonder what she can know of those things at such a young age. Until I remember my own teenage years. This song shows off her delicate fingerpicking, while the next has her playing chords: 'Woman of Secret Gold'. Morrissey sets aside her guitar for the final three songs of her half-hour set, and takes a seat at the keyboard for a song she sings with a timeless voice, 'Why'. Further channeling Billie Holiday-esque timelessness, she breaks into another track from her debut album, 'If You Can't Love This All Goes Away': a rare positive song about breaking up. Morrissey closes out the set with a song from the woman herself, 'Don't Explain'. "I'm so completely yours", she sings, and for a moment we might believe it to be true.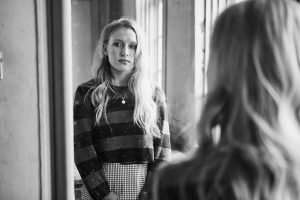 Half time brings about a change of candles and a change of personnel on stage: Billie Marten and her band, including Alex Eichenberger of Swampmother (and Lucy Rose's band). Marten has been making a splash in singer-songwriter circles in the last year or so, and is heavily invested in the festival circuit this year: Latitude, Bestival and Secret Garden Party. She is impressed to see a full venue: "Hello, there are so many of you." And then she says the most endearing thing I think I've ever heard on stage: "I was sitting backstage on a candlestick box listening to [Flo Morrissey]. I may have cried a bit." She picks up a large-bodied Gibson guitar and slips into 'Flow', a seemingly new song, and then 'Lion Hearted', which is slated to be her next single, and also on her debut album, Writing of Blues and Yellows. In it, over a drumbeat which pulses like a heart, she talks to herself: "I've never been too bold… How I wish that I was lion-hearted… What will life be like with a lion heart inside instead of mine?" It's a beautiful song, poignant and wistful. Next is old single, 'Heavy Weather', followed by another new track inspired by the Bronte sisters, 'Emily'. She really seems to be relishing the set, and the environment. During the long instrumental in 'Emily', she gazes at the ceiling of the Playhouse for ages, perhaps thinking it unusual that she has a song that goes by the name of the painted figure on the roof. "I think this is the nicest gig I've ever played. I'm a bit worried about candle wax, though." Putting down her guitar, she closes out her performance with one of her early songs, 'Bird', which features Eichenberger's wailing 'cello beautifully. And then in saying goodbye, she sings 'Hello Sunshine', another sneak-peek of what's to come, which also boasts beautiful 'cello, this time in duet with Marten's guitar.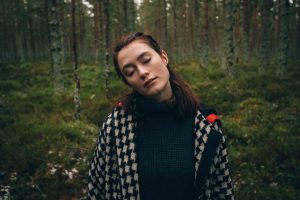 It's strange to think that the evening's final performer, Rachel Sermanni, is the most experienced of the bunch. I remember seeing her for the first time on an acoustic stage during a festival on Clapham Common, five years ago, still a teenager. She has changed so much. She's chatty. She has seen the world, and sought out experiences unlike any others… some of which she shares throughout her half-hour slot. Opening song 'Lay-Oh' first took form on the streets of Amsterdam, and Sermanni's trad. folk leanings are clear from the outset as she hops folkily from side to side. She too is impressed with the surroundings: "It's like wearing a big wooden womb… how safe do you feel right now?!" Long gaze at the ceiling. 'Tractor', a song that took shape whilst sheltering from the elements in a tractor in her native Scotland, has a much more commercial sound, and the single version has a catchy bassline. Here she's on stage alone. She shares a story from her exploits earlier this year, working in a cafe in a Buddhist monastery that inspired a song. There was surprisingly a lot of stuff to contend with. "People are so mindful until they want a coffee!", she jokes. Finding one particular day overwhelming, she fled to the shores of a river where she penned the next song, 'Put Me In The River'. It contains some beautiful lyrics: "I was shaking 'cos my arrogance has just surfaced as a whale. Strange that, as of yet, no-one has seen." Known for her dark, brooding songs, particularly on her first album, Under Mountains, she now performs a happy love song, dedicated to a close friend, 'On Top of the World'. It has a vague hint of honky tonk, almost upbeat. Sermanni hesitates before deciding on what to play as a final song. "Old Lady's Lament" gets the nod, and she sings the delicate song with a beautiful, rich voice that fills this cosy place. The audience add their voices to the refrain, saturating the room with a deep, warm and muted sound… almost as a baby in a womb hears its mother singing.
Words: Paul Woods
Pictures: Peter Le May (Sam Wanamaker Playhouse), Mike Guest (Rachel Sermanni)