For Lou Rhodes the distance between trip-hop and folk music is shorter than you think. As one half of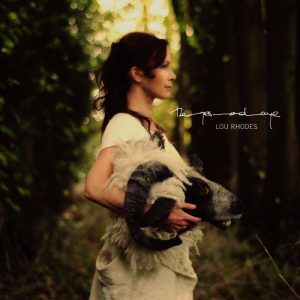 Lamb she's recorded six trip-hop albums, yet it's not hard to see how with different instrumentation those songs would still work regardless of the context. Having collaborated with a myriad of artists from Eliza McCarthy to the Art of Noise and The Cinematic Orchestra, her fourth solo disc has a gauzy acoustic vibe. Recorded in the Wiltshire countryside, theyesandeye will have audiophile's drooling over the use of one of the vintage boards used in recording The Beach Boys' Smile sessions.
The disc's name, theyesandeye, is Rhodes own misinterpretation of a painting, theeyestheysee. A chorus of birds opens the first track, 'All The Birds', while Rhodes sings about finding love when all seems lost. Despite a hippie vibe, there's no sense of being overwhelmed by a 60s consciousness. Stripped of the electric guitar and synthesized drums, Rhodes take on The XX song 'Angels' becomes even more fragile and haunting.
'Sea Organ' is a perfect environmental wake-up call while maintaining an air of fragility that permeates the LP. Staccato guitars take the fore, with a harp overlay at the end. "All of this time we thought the world was at our feet and now it's clear it's in our hands," pulling this off without sounding like an aging hippie requires a steady hand on the wheel.
In conjunction with producer Simon Byrt (who doubles on guitar, bass, piano and synths), Rhodes has crafted an LP focused on today while maintaining a timeless feel. 'Full Moon' in particular sounds like a recently unearthed Fairport Convention track. The contributions of Florence and the Machine's harpist Tom Moth (especially on Hope and Glory) and the string arrangements of Danny Keane are particularly praiseworthy.
Words: Bob Fish