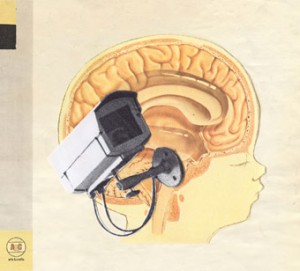 Self-styled 'gay church folk music' band The Hidden Cameras have always had a great sense of humour, loading often overtly sexual and usually overtly queer lyrics into songs such as 'The Man That I Am With My Man' (which deals explicitly with blood-letting and water sports) and 'Heavy Flow of Evil' (which is about exactly what you think it is). That has not changed in Origin:Orphan.also
The hilariously inappropriate 'Underage' sees Joel Gibb (the band's main singer-songwriter) crooning "let's do it like we're underage … I'll pretend you're seven, you pretend I'm eight". 'A Little Bit' contains repeated backing vocals that sing for (among other "little bits") "a little bit of spittle and a little bit of blood". There is a wonderfully entertaining trick where the backing vocals sing "a little bit of trumpet" before the song immediately launches into a trumpet riff, adding musical jokes to their lyrical ones.
Of course, not all the lyrics are so riotously funny or rampant, but this creates a great contrast between songs that works, as it always has done, very well. The sexual freedom (and freedom of sexuality) that The Hidden Cameras have always represented is often tempered (though not curtailed) by the more sobering sombre lyrics.
What really seems to have changed in this new album is just how much more mature the music is. The Hidden Cameras have always had great songs, but they have often felt a bit rushed or thrown together, not always developed to their full potential and, as a result, they can sometimes highlight their musical simplicity in an unflattering light they don't deserve.
In Origin:Orphan, Gibb has written a set of songs that may well be his best, and are certainly his most completed. It is clear from the droning string intro to the album opener 'Ratify the New' that these tracks have been given the time and effort they truly deserve, and the result is mesmerising. 'Ratify the New' is ethereal and builds into a great start; 'He Falls to Me' could be the best song they have ever recorded; 'Walk On' is epic in a way The Hidden Cameras have never been before; and 'Silence Can Be a Headline' is as moving a song as older tracks like 'Builds the Bone' were.
It's been three years coming, but if that's the time required for an album this good, then I'd happily wait another three for the next.
Words: Robbie Hayward