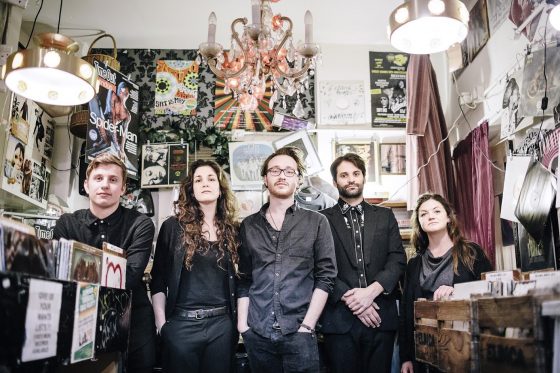 Nestled in an oft-forgotten corner of Kings Cross, St Pancras Old Church houses some of the more intimate and spellbinding concerts of London's independent acoustic scene, and tonight's show was no exception. The evening, marking the launch of 'Burial', the new single of chamber-folk outfit Wooden Arms, was opened by the infectious electronic loops and Hail to the Thief-esque vocals of Joel Wells. Accompanied by a standing cellist/vocalist, his music sits somewhere amongst the likes of Depeche Mode, Kraftwerk and Crystal Castles, with the cello providing an other-worldly timbre sitting underneath the layers of synth.
The aforementioned cellist then seceded and performed a set in her own right, as Abi Wade. She couches her delicate voice and distinctive song writing within subtle cello lines, pizzicato and bowed, electronic loops of percussion and other sound effects (a printing press among the most memorable!). Performing with a haunting intensity, she drew the audience in, building up tension perfectly before the heavily layered and at times explosive set that was to follow; 'Hope', a song that has garnered some serious attention on Spotify, was the emotional zenith of her consistently gripping set.
Wooden Arms then took to the stage; the perfect setting for their unique classically inspired sound. I've seen them live a few times now, and their Dog is Dead style full band vocal harmonies never fail to catch me off guard. This time, they played with a ferocity I've not felt before, a certain feral quality in percussionist Alex Mackenzie's drum lines and Alex Carson's (vocals, piano, guitar) vocals outbursts, particularly in the likes of 'Burial' and other new numbers. At the same time, the band were perhaps more playful than on previous occasions – Alex acting mildly unhinged in the most affectionate of ways, while Jeff Smith (vocals, electric, acoustic, bass, trumpet) spent every moment on stage in a state of melodic ecstasy. Indeed, rather poignantly, the fellow next to me tapping me on the shoulder to show me that Wales had just progressed to the semi finals of the Euro coincided nicely with a particularly joyous musical climax in their music…
After showcasing primarily new songs for the first half of the set, drawing out Fifi Homan and Phoebe Fullbrook's gorgeous string harmonies atop the layers of piano, guitar and drums, the five-piece then slipped effortlessly into their older material. Jeff's trumpet entry on 'False Start' is one of my favourite musical moments of all time (you can see a stunning rendition of it here) and 'December', the mournful opener to their debut album Tide, was another highlight. 'Burial', breath taking on recording, was equally so in the musical flesh.
Just when I thought they couldn't get any better, the band finished their set with a stunning version of 'Lullaby' by The Cure.
Go and see them live, buy their music – they are simply incredible…