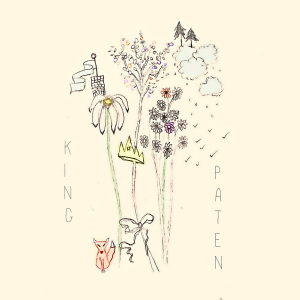 TV reality singing competitions have a way of producing fans reluctant to see their favorite idols change. Take the case of 22 year old American singer-songwriter Holly Henry, who has just released her third independently produced album. The eleven tracks of 'King Paten' spotlight Holly's rapidly maturing vocal talent, with stylistic influences clearly gained in covering over 100 unique artists on her internationally popular YouTube and SoundCloud channels. Lyrically, she coaxes us to hear how she felt in her youth, thus introducing fans to her pre-'The Voice' youthful innocence. It's a musical journey well worth exploring.
True to her previous EPs and singles, 'King Paten' once again delivers melodic lyrics which fans of any age can appreciate. Behind the exotic ukulele strumming, Holly seductively teases us in 'Citrus': "Will you always like me. Do you think you'll always like me?/ Love you found me in the trees. Citrus on my lips. Lemon tea on my fingertips./Are you fascinated?"
Using an innovative mid-album instrumental 'Intermission,' Holly's interlude teases us away from a Forever 21 romantic diva in 'Citrus' and the introspective tracks 'Powder Blue Earth,' 'Crawl,' and 'In Between' of the first half of the album. The interlude provides a musical time warp portal, where we are ultimately taken back, in the final track 'King Paten,' to an imaginative child at one with the forest. It is a safe place where she could be "someone else entirely until I forgot who I was" in a less complicated "world of my own inside a forest existing only when I wanted to play." Holly's convincing lyrical transformation to her childhood is an impressive feat, when one considers just how hard it can be for fans to shed a TV produced image, including the contestant's own social media produced persona.
'King Paten' was produced at Minneapolis' The Library Recording Studio. I asked Holly if the album had instrumental support by owner/producer Matthew Patrick, or others. "Yes he did!" replied Holly. "There are instruments he owns which I can't play like the cello which is one of my favorite instruments. He always adds great things to the songs and I'm grateful to work with someone who has general knowledge about most instruments. And no, I wrote the songs without a co-writer or anything so everything you hear in the album is either written by me or created during studio time! And Matt did run it through a tape machine during the editing phase I believe, because I wanted a warm sound."
Holly Henry continues to exemplify the successful do it yourself musician, with a keep it simple approach to her music career. The album is available as digital downloads from Garden Ghost Records on iTunes, Amazon, Google Play and Bandcamp.
Words by: Gary Reese