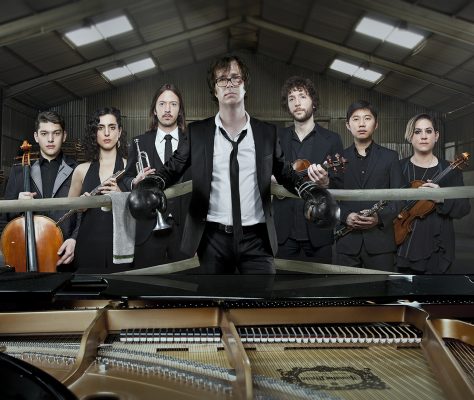 yMusic line up guard-of-honour style, awaiting the arrival of the man everyone is here to see. The classical chamber music sextet are the latest addition to the menagerie of Ben Folds' collaborators. This Folds chap doesn't like to play it safe. And true to character he strolls on stage swishing Welsh whiskey round a glass, "to fix my jet lag".
Folds is a virtuoso instrumentalist with a rare talent for crafting beautiful, stirring pop music. Always thoughtful in the application of his talents, he channels broad influences while shunning cliche. During tonight's set a final chord is never milked, solos are present but lean and unusual, and the full talents of the uber-talented musicians on stage are thoughtfully explored.
Of those musicians, especially enjoyable is yMusic's string section. They pluck, bow, strum, strike and scrape according to their harmonic and percussive muse, all the while appearing to enjoy themselves as much as anyone in the theatre. You feel they would smilingly smash their instruments to pieces and set them on fire if they deemed it for the good of the song.
yMusic complement Folds' playing excellently and are only underused in their vocal contributions. Going back as far as his Ben Folds Five days, Folds' musical hooks always dug deepest when delivered in vocal harmony. Thankfully, the audience is in fine voice when asked to form an impromptu choir on 'Not the same'.
Folds seems at ease in his sharing of the stage, which contrasts intringuingly with the self-examining tone of much of the evening's subject matter. 'Phone in a Pool' hints at past troubles: "Seems what's been good for the music hasn't always been so good for the life". As they stood to applaud the end of the show, tonight's audience were surely hoping for some further drama in the life of Ben Folds.
Words: Dan Farmer