Beth Orton doesn't release records very often, so you have the feeling that when she does it isn't a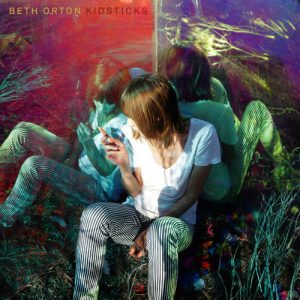 mechanical process, she has something to say and perhaps even a new sound, determined by who she has been working with.
The brilliantly titled Kidsticks wears the influence of being made along with half of F**k Buttons on production duties. The wonderfully jaunty and fascinating 'Snow' kicks off the affair. It's a beautiful opening, showing what is so unique and lovable about Orton, regardless of how the surrounding instrumentation may shift across her records. The lead single 'Moon' follows, and it's a track that gets better with familiarity – it's what fans will love and the new sound fits her voice like a glove. This is the sound of Orton delving into her electronic past.
There is something unspectacular about Orton, yet this is refreshingly honest from a musician today. Her ability to shapeshift and search for new musical sounds and instrumentation is a gift, one which Orton utilises well. Her voice is her own, not stunning but real and down to earth, filled with heart and soul, a voice that is distinctive and hides little. It always ends up impossible not to be impressed, and Kidsticks is no different.
There is something utterly gorgeous in the way she sings the 'all in all' line at the end of 'Wave,' a stunning peak of the first half of the record. That continues into 'Dawnstar' as she evocatively paints another beyond-earth picture with a sublime vocal. 'Falling' is so natural and sweet it feels like classic Orton. Right up to the end it pulses and vibrates with gorgeous energy, never too much, always something surprising and beautiful happening.
Kidsticks proves once again that Orton is not only that rare gift – a songwriter who feels utterly true to herself – but she is restless, inspiring and able to make brilliant records after substantial gaps of time. This is another treat for fans, a lovely little record.