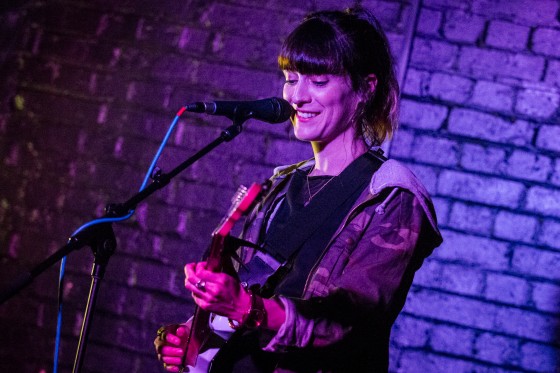 Sarah Howells goes by a few names, but the one she is currently making use of is "Bryde". Best known as half of pop/folk duo Paper Aeroplanes, Howells is taking a break from the band which regularly populated BBC Radio 2's playlists and in particular Bob Harris' late-night show. Whereas Paper Aeroplanes is the girlfriend you would confidently take home to Mum and Dad for a Sunday roast, Bryde is the girlfriend you would let them see a picture of or wave at from afar, but never ever let them meet. Bryde is a wounded wildcat. Bryde is "fucking angry".
By the time Essex-born Anna Pancaldi steps onto the stage at 8pm, the basement of The Slaughtered Lamb is starting to get busy. She starts with her phenomenal anthem, 'Runaway' from her recent Dear Joey EP… a release that saw her climb up the iTunes Singer/Songwriter charts to No. 3. She follows with another track from that EP, 'Come On Love'. Her deep, sonorous voice – made deeper during one song by erroneously placing her capo – is rich and velvety, and there are sounds in there which show influences from a variety of artists. I particularly like a London Grammar-esque vocal twist in 'Runaway'.
Second up on the night's roster of solo singer-songwriters is Ned Younger, better known as Monument Valley. He is somewhat of a recluse when it comes to live shows, social media, and so forth, but a hidden gem. Engaging and funny on stage, with songs that are carefully crafted and capture astute observations from his everyday life. Younger exposed his folk roots with a contemporary version of traditional song, 'Water is Wide', but it was his song 'Tattooed Fists' that stood out for me, a song about a pugilistic relationship that ended: "Two chalk outlines that people might have guessed had once been lovers. But no more."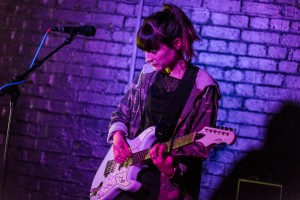 Bryde is the performer everyone is here to see, and to join with in celebrating the release of her first EP. Curiously, 'bryde' in Danish means 'break', and it is a broken relationship which has brought Bryde to life. 'Bryde' also evokes a Miss Havisham image… a jilted lover trapped in an attic of pain and deep disappointment. Good for Howells that she seems to be working through her feelings in true singer-songwriter form, by standing on a stage in front of a room full of strangers and baring her soul to them. The curse of being talented in that way. Her songs are unashamedly dark, and she is unashamedly angry… but in a recent interview, she was quick to point out that this is a transitory phase. Part of the catharsis of ending something significant. Fittingly, the name 'Bryde' in Celtic traditions is associated with resolve and strength, a prescient sentiment for the future, hopefully.
Bryde of course draws from her EP1 for many of the songs for the evening, but opens with two tracks from her earlier Chocolate Factory Sessions release, 'Handstands' and 'Oh Tender'. 'To Be Loved' is the final track of EP1, and speaks of a lack of commitment: "I don't think you want it (not enough, not enough) Take it or leave it (give it up, give it up) But I think you need it (to feel, to feel) loved" and has a harder edge to that which we usually expect from Howells. Those Paper Aeroplanes fans in the room (99%, by casual poll) would expect intricate and delicate melodies set over jangly guitars, but Bryde is gritty and raw, punky. 'Dissect', a new song, pushes further home the point: 'I ain't got nothing to prove', she sings, and subsequently dedicates the song to the 99%. Next is another new number, 'Just', and she follows with three unnamed songs, which perhaps may feature on EP2, before presenting us with 'Nectar' track 3 from EP1. A song possibly about a certain supermarket chain.
Bryde is not only a new direct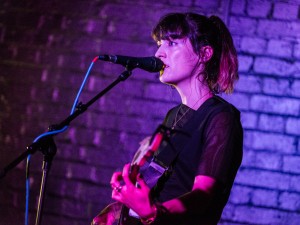 ion, but also a developed personality for Sarah Howells. No longer is she the Welsh girl from Milford Haven that yearns about loves lost, she is now Bryde, the cool kid from Brixton who doesn't "give a shit about what people think" and is more likely to play at a "Fuck yes, I'm single party" than a wedding. She closes her twelve-song set with two of the most majestically honest songs in her repertoire: 'Help Yourself', dedicated to the ex-boyfriend who created these vitriolic feelings… "Does it scare you how I found you out, came up breathing after waves of doubt?… It gets bitter in the end, my friend." And 'Wait', the soft vulnerability that is left after all is done.
With a nod to the Paper Aeroplanes lovers in the audience, Howells comes back for a final encore, 'Ribbons'… one of Paper Aeroplanes' most listened-to tracks. It's clear that Howells' songwriting and vocal genius is undiminished as Bryde, it has just taken on a keener edge, one that has been sharpened through attrition. Her songs cut, but that's okay, because we've all been there, we've felt the betrayal, we've suffered the heartache and we've lashed out like wounded wildcats. We know what comes next, the rebuilding of trust, the minor reinvention to protect the wounded parts, the re-establishment of normal service, but with a wiser, more cautious, more mature head on our shoulders. We know that no matter how much it hurts, things get better. As new fans of Bryde, we are looking forward to what comes next.
Words and pictures: Paul Woods