Radiohead return and steals the show. The band's fans have never had to wait so long between album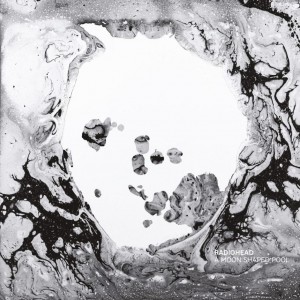 releases, yet this doesn't mean the band members have been quiet.  Jonny Greenwood has continued making ever more fascinating forays into classical and film soundtrack work, Thom Yorke released a sophomore solo record, and a very good album with second band Atoms For Peace, and Phil Selway also returned to his own solo project. Here though, the 5 piece have reconvened with an album which is a true delight.
There is a sense of opening up here that we have not witnessed before. A Moon Shaped Pool introduces us to a version of the band we had scarcely predicted ever seeing. Yorke's lost love, long time and magnificent producer of the band Godrich's personal heartbreak, and the youngest of the Greenwood's now expert hand at composing heart wrenching string and classical work that combined with Yorke's ever spectacular voice make this a work that reaches further inside than the band has previously accomplished.
Much of the material isn't new, harking back as far as 21 years (see perfect closer 'True Love Waits,' the song the fans might have thought they would never hear in studio form), and finally seeing daylight is surely satisfying to long-time fans of the band. But the record has a cohesion and a vision that 2011's The King of Limbs was slightly lacking. For a band that has peaked so often over its career it's hard not to see this as yet another, and one that perhaps wasn't quite as predictable.
'Burn The Witch' kicks off the affair. That track was the first song to be heard just 5 days before the album arrived, replete with a Trumpton-esque video and bird song at the start and end that do not appear on the album version. It's a cracking and menacing opening if not a great indication of what is to come. It's a fascinating opener and somehow doesn't sit out of place.
What happens next is hard not to be stunned by. 'Daydreaming' was the second piece of the puzzle to appear, 2 days prior to the album release, and shows a side of Yorke that is both heartbreaking and exquisite in equal measure. The video depicts a man lost, seeking some rhyme or reason, the lyrics signify the opening of his heart as few could have foreseen. This is not a one-off for the album. Throughout it is littered with vulnerable lyrics that leave the listener deep in thought. The bleak reversed end lyric of 'half of my life' is dark, to say the least. If it truly refers to the end of a long relationship, then we all know how loaded that line is. The lyrics coupled with the swooping orchestra and a much more present piano than heard before this is Radiohead reaching into your chest, grabbing your heart and affecting its very beat.
To review a Radiohead record, especially one with such beauty, after one or two listens seems almost sacrilege. 'Decks Dark' makes the opening trio a classic album start, with its delicious melodies and a coda that even tops what has come before. 'Desert Island Disk' treats us to the folk Radiohead last seen on 'Faust ARP' on 2007's In Rainbows. This is a step up, the ghost of Nick Drake, The Beatles circa Sgt.Peppers…, and some of the finest popular folk over the past 50 years. It's also quite the surprise and a nice twist and turn down another avenue of sound for the band. What follows is menacing, driving, krautrock 'Ful Stop.' The way it slowly turns the engine up and gets running is a thing of dark and grandiose wonder. By now, around the halfway mark you realise that no song sounds remotely akin to the one that preceded it. This is a band that can turn its hand to create any sound it wants and pull it off. So, that one of Radiohead's best ever ballads follows is again symbolic of how good this album is. 'Glass Eyes' could refer to tears giving the eyes that look of glass. It's tender, heartfelt, somewhat broken, as a piano taps into Yorke's consciousness and strings almost engulf him, before saving the song from the abyss.
'identikit' has also been around a while. It's another highlight, as it starts in the background, remembers to take centre stage and under the spotlight forces its way inside until its central line "broken hearts make it rain" worms its way inside for good.
'The Numbers' is a curious jazzy piano track that feels a little like a warm, fluttering jam with Yorke's vocals piercing holes in its loveliness. Strings take the song to another level before it drops out, Yorke departs and the strange piano notes fall like raindrops. 'Present Tense' is more loveliness with lyrics, when they can be clearly heard, that hit all kinds of marks. 'Tinker Tailor…' finds Radiohead in Thom Yorke solo mode until Jonny Greenwood's orchestral majesty takes the track from Yorke's hands. The two of them doing what they do outside of Radiohead makes for a compelling band track. Especially as it morphs from one genre into that of the other, though let's face it, who needs to label any of this.
But, it's the finale that brings the album cycle full loop and perhaps leaves the listener stunned. Where Radiohead's 9th LP began with a song that dates back over a decade it ends on one first debuted 21 years ago around the time of The Bends. 'True Love Waits' has been a fan favourite that now finally receives its studio album airing. It sits beautifully as the final song on this most tender and poignant of Radiohead records. It is surrounded with billowing notes, from piano and other sweet instruments. It's like one of Sigur Ros' dreams performed by Radiohead. Now, finally, we see a side of Radiohead that only now can we have known we were truly missing. These words, this music, every single note, thought out and perfectly lined up together was worth five years of waiting.
So, does it matter where it rates up in the band's catalogue, if it's as good as Kid A or OK Computer, when it's this full of love and magic? Radiohead has come back with enough beauty to overwhelm every single fan of the band. And when Yorke sings on 'True Love Waits,' the tragic fairy-tale 'please don't leave,' it's impossible not to want more. Is this to his loved one, is it a goodbye from the band, is it any of the infinite other possibilities, and if so, which one? This is what it is to listen to this band, feeling both loved and lost, feeling that it's ending and starting all at once. The album grows with each listen, and it's a thing of utter gorgeousness.