There's something wonderfully off kilter about Jenny Gillespie's latest CD, Cure For Dreaming.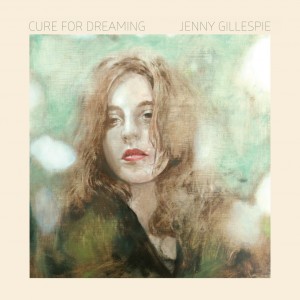 Rather than being a cure it seems designed to send one's imagination fluttering off in any number of different directions. Songs morph and meld in much the same way that progressive rock does. Yet every piece seems deeply rooted in the folk/ jazz tradition of a Tim Buckley or The Roches folk/rock.
Jenny Gillespie doesn't pay it straight. Her music has an ethereal quality in short supply these days. Which goes a long way to explaining why the band on this album features a who's who of modern music sidemen. Pedal steel player Greg Leisz has played with Lucinda Williams and Bon Iver, guitarist Gerry Leonard was in David Bowie's band, while drummer Jay Bellerose thumped for Robert Plant and Allison Krauss, Chris Bruce is a guitarist with Meshell Ndgeocello. Even co-producer Paul Bryan has played bass and Mellotron with Aimee Mann. But it takes an incredibly special band to keep up with Gillespie's fluid sense of time.
Cure For Dreaming incorporates elements from electronica, progressive jazz and the 70s progressive rock staple, mellotron. There is a pervasive mood of melancholy to many of the songs. What stands out is how the music shifts directions. Tempos change and shift as evidenced on 'Dhyana By The River'. Like a waking dream, the shifts keep you from being totally comfortable, yet still compelled to listen.
'Last Mystery Train' begins with just a piano and muted cymbals before building as Gillespie sings, "laughing all the way to your last mystery train." The song begins to end in reverse with instruments fading out to piano and drums. There is an intensity to this music not necessarily evident on first listening. It burrows under your skin and begins to take hold, becoming more powerful with repeated exposure.
When Gillespie sings, "pain travels like an oxygen mask" it conjures up a notion of existential longing that goes beyond the pain we inflict on each other to the pain we feel, both real and imagined. That she can transform those emotions into songs of such beauty and depth is what sets Cure For Dreaming apart from so much of today's music.
Words: Bob Fish