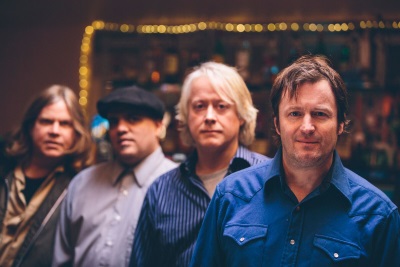 The last Richmond Fontaine concert I went to a decade ago saw their set sabotaged by stage monitors blowing, leaving the band battling in vain to hear their own instruments.
I'd not really given them a second thought since but my interest was reawakened by their new album You Can't Go Back If There's Nothing To Go Back To. Billed as their tenth and final record, it's a stirring portrayal of growing old on the outskirts, full of bittersweet tales of desperation and companionship. Since my last encounter with the Portland, Oregon outfit, frontman Willy Vlautin has also established himself as an author, receiving acclaim for his perceptive portraits of small-town America over four novels, including debut The Motel Life, made into a gem of a film featuring Kris Kristofferson.
Tonight, Vlautin and original Richmond Fontaine members Dan Eccles (guitar) and Sean Oldham (drums), plus bassist Freddy Trujillo (who also plays with Oldham and Vlautin in The Delines) roll into Birmingham as part of a 'farewell' tour. The quartet are in ebullient mood, Vlautin and Oldham exchanging playful one-liners before eventually launching into 'Wake Up Ray' from the new record. The banter continues all night, Vlautin tripping over the name of their latest album, the others chiding him for fluffing his lines.
There's an appealing looseness to a band enjoying themselves as much as the busy crowd. This is typified by the majestic 'Through' from 2004's breakthrough Post To Wire, a ragged country rock number the equal of anything by The Jayhawks or 90's Wilco. New songs 'Don't Skip Out On Me' and 'Tapped Out In Tulsa' are meatier live than on record, Eccles' expressionate guitar ringing through the Hare & Hounds.
Despite the upbeat atmosphere and warmth between artists and audience, Vlautin's bleak, literate stories remain his calling card. 'WIlliamette', 'We Used To Think The Freeway Sounded Like A River' and 'A Night In The City' lift the paving slab on everyday struggles, their lived-in authenticity almost always avoiding cliche. The latter is a dark recalling of a futile middle-age bender: "a one-night rebellion that ends up just being a drag". "Is this all there is? Is this what life is?" groans Vlautin over crunching guitars. Starker still is '43', a frantic account of a life careering out of control climaxing in the sound of "sirens and helicopters".
But the prevailing feeling is one of celebration and appreciation, Vlautin sharing biographical snippets about working in a store for a triple-crossing boss who'd take him out for Vietnamese food, or his first experience of a band boasting a 'real' frontwoman (the late Mia Zapata) in the raucous power pop of 'The Gits'.
The group are mildly embarrassed at having to huddle onstage ("there's no-where to hide!" laughs Vlautin) while awaiting an encore. It begins with the centrepiece from their current album, 'I Can't Black Out If I Wake Up And Remember', and closes with 'Four Walls', Vlautin pining for sanctuary from the world outside, dreaming: "we'll lay around and our hearts will sing like Mariachis". It's a poignant finish and, if this really is the end of the line for Richmond Fontaine, this tour will go down as a fine swansong.
Words: Pete Bate (@petebate)