At the time of the whole Let England Shake album/tour cycle Harvey stated that if her next record took 10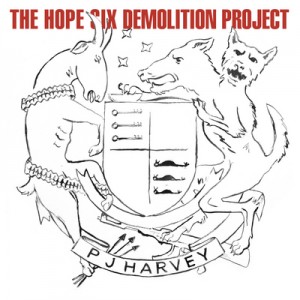 years then so be it. That her 'next' record is here after half that time is something of a relief and a record to welcome with open arms. Let England Shake is clearly no easy album to follow, but the thrillingly titled and imposing new record is made by an artist who is anything if not uncompromising, adventurous and honest.
The Hope Six Demolition Project is the first work in which PJ Harvey is a known 'war artist' and the persona she found on her last album has remained. That in itself, for Harvey, seems like a big thing, not to mention for her listeners who automatically assume she will reinvent herself all over again both sound wise and in her appearance with each record. So, it's clearly political, but it's far more super-charged with rock and blues than Harvey has been in her most recent incarnations. The years in between these two 'war' records have seen her travel to a number of locations that have further inspired her search for the pain and truth of war and its surrounding politics (Afghanistan, the US, Kosovo). It's impossible to ignore, it's part of what makes us, our surroundings and our cyclical errors of humanity.
Unsurprisingly, this is a record that is confrontational. We have previously learnt just how aware of the surrounding world Harvey is. As an adult, travelling, seeing the world for what it sadly seems to be, there can be no doubt that she feels the need to document this via the medium of song. The 'demolition' of the title seemingly refers to both the effects of war and poor politics, and the axe-like way in which music can come down on all of that. Opening couplet 'The Community of Hope' and 'The Ministry of Defence' both give a feeling of attack, (in totally different ways) of wonderful posturing against the wrongful doings of many a politician, they are also a pair of contrasting rhythmic pieces, that are disorientating, intense, and fascinating. The first major saxophone blast of the album is a spellbinding mess at the end of the latter of the tracks, a gorgeous and uneasy moment, Harvey has us experiencing the taste of all this hypocrisy and tragedy on the tongue.
'Dollar, Dollar' is so brutally honest and heartfelt it drips with disdain for all the unnecessary hurt that exists in the world. It's the perfect closing statement for this record. The slow start, the sound of the streets, where all manner of horrifying events is unfolding, money is changing hands, the painter is painting a scene, then the song kicks in, with the title word repeated until it's firmly in your head as the album ends – money, power, war, corruption, all of it. It doesn't leave you alone, it SAYS something.
Both the album's opening and closing pairs of tracks are chief highlights here. The repetition of the chorus on opener 'The Community of Hope' works well and does the damage it intends on doing, but by the time we reach 'Near The Memorials of Vietnam and Lincoln,' while there's something thrilling about it the repeated chorus here results in being somewhat flat, lacking some spark to give that short track the boost it needs to take off. 'The Orange Monkey' feels like a wonderful idea that isn't quite finished, and 'Medicinals' also has a sense of stopping short of what it could have reached. Perhaps that's the intention, the capture of unfinished business, snapshots, a challenge, a puzzle to solve, and is one of the reasons Harvey has no real peers, she occupies a space all of her own, as a musician and a human being.
There's no denying Harvey is an incredibly brave artist herself, and her attempts to show the process (being watched creating the tracks in a museum exhibition in early 2015), to really inform herself of the world and its wounds, and deliver her findings in such a way to the larger public is admirable and compelling. Seldom is a masterpiece of an act followed by another, and this is no exception, but what we do have here is a startling document of modern times, as told by someone who is absorbing them, in what she sees, the places she visits and the work she then creates
Polly Jean Harvey doesn't get older she just becomes more and more important in the grand scheme of things. Like Kate Bush, The Beatles, Radiohead, Bowie, The Smiths and a small number of truly iconic acts she is gradually assuring her place in the pantheon of British musical heroes, becoming an unexpected institution. Nobody could deny her that, and as ever her career is a thing of wonder to sit back and regard.