Parquet Courts are a band you need in your life. The band signing to Rough Trade last year was both obvious and intriguing. The mostly bizarre, almost completely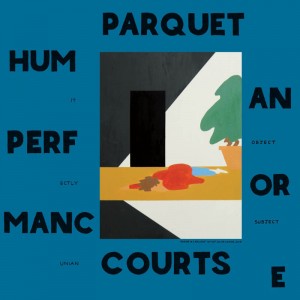 instrumental EP/album 'Mona
stic Living' from late last year was anything if a conventional release (the first on the label), though this is  expected from a DIY indie punk band. It did perhaps build curiosity for the first full album that resides in the more typical framework for a band that has long been thought provoking, inspiring, and fun, in equal measure.
So, Human Performance arrives on the back of some killer singles, 'Dust' and 'Berlin Got Blurry'. Those tracks showed the band to be back with a bang of sorts. On first listen this record isn't quite as immediate as its predecessors. What you start to realise on repeat listens, which many a great album demands, is that the band has matured, encountered a new wisdom and whilst maintaining its very essence has evolved into something a little less messy and more focussed and equally if not more challenging. Parquet Courts wants to make you think. Let's hope that in itself hasn't lost you already.
There's plenty here to feast on, ponder and feel euphoric about, but perhaps those contemplative moments where you are stretched into mulling over life and its many facets is what makes this one of the most special bands working today. Record sales don't seem to mean much nowadays, but it's hard to deny that the songs, the messages, the curious artwork, second project Parkay Quarts, and fuzzy mystique surrounding this band makes it more interesting that most.
With so much to consider across these 13 tracks (14 if you purchase it digitally, and I hate to say refrain from buying CDs or Vinyl records but the bonus track is a stunner!) it does the usual trick of coming on like a Spanish paella – so much flavour for the senses – it certainly needs to be devoured carefully.
Andrew Savage's vocal delivery is as curious as ever, if a little less mouthy. At times, watching him sing it's hard to believe he isn't trying to swallow a tennis ball whole, such is the dexterity of his jaw and mouth muscles. His unique approach and way of enveloping sounds is a little more tempered here. The band flexes its muscles at the same time as revealing a deeper, more tender side than ever it has before. The lyrics are powerful, poignant, punchy. It is difficult to understand every word being uttered, but that would certainly diminish something of the ramshackle nature of the band.
So, Parquet Courts return with another feast of tracks to occupy our time. It consists of highs and lows, it makes you think, it makes you forget thinking and just react, tap a foot, dance, want to throw your hands in the air or sing along. It's a band that makes you feel. Just as Monastic Living created a sense of unease, and was mostly uncomfortable but somewhat thrilling, Human Performance explores mankind, its creations and its downfalls. As a first record on Rough Trade, the best is yet to come, and the hope remains that they keep pushing the envelope, because somebody has to. They might have received the torch by accident or taken it on purpose, but there's no denying this band carries a flame that everybody should be following.