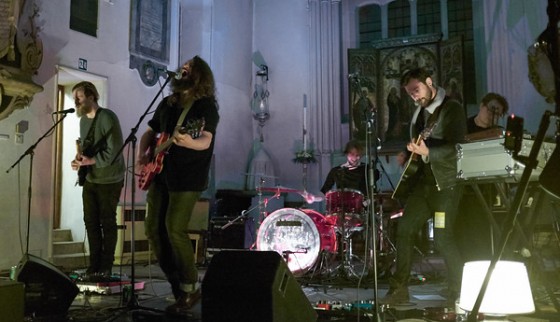 "The next song is a sad one… as is the rest of the set".
Drinking, drinking with people you hate, relationship breakups and mental illness.  It's fair to say the subject matter of John Joseph Brill is not the cheeriest.
I heard John and his band perform at St. Pancras Old Church in London, a short walk from the Eurostar terminal.  Not a venue for cold nights, it is intimate and encourages a respectful atmosphere for the baring of a soul.
The songs themselves, though, are not the soft, fragile pieces you might expect given the subject matter, but instead have energy and drive that reflect the raw and powerful emotions behind them.  The opening number, 'Pieces', grumbles and growls, driven along by the four guitars of the band and John's baritone voice.  From there we go to the excellent recent single 'False names', a touching song of solidarity and joy against adversity which culminates in John's voice rising to a roar of sheer defiance.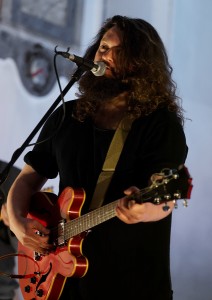 The songs in the middle of the set take the energy level down a notch.  For the last of these, 'Sleeping Beast', the geography of the show is reversed with John and accompanist leaving the stage and making use of the church piano near the entrance, and the audience standing to gather round.  Sometimes in gig attendance, the first shall be last, and the last first – at least briefly.  John's powerful voice and the complete silence of the audience remove any need for amplification.
The main set finishes with 'Muscle and Bone', another song full of brooding energy.  For the solo encore we're given a choice between an old sad song and a new sad one. The latter is chosen, and John closes the night with 'Santo Spirito', a title appropriate to the venue.
Despite the dark content of the songs, John himself is not nearly so miserable when chatting between songs.  Perhaps the music is a kind of catharsis, one that we all benefit from.