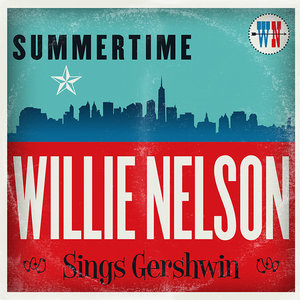 Willie Nelson needs no introduction. By now he has become a part of your understanding of contemporary folk, country and blues music. But Summertime is no ordinary Willie Nelson record, because his latest studio release is a splendid foray into a territory of undeniably special music – the great songbook of Gershwin.
Nelson's beautifully cracked and well-worn vocals lend a note of melancholy to these tracks that few others perhaps would be capable of achieving, and that is where the magic of this record becomes apparent. Maybe you know of Gershwin without knowing, these tracks are certainly no secret, and Nelson and his unique style bring something of a crossover appeal to songs long known in the jazz arena.
It starts with the relaxed jazz of 'But Not for Me,' with beautiful percussion and electric guitar that decorate Nelson's heartfelt delivery. It's a mellow and stunning opening, and it's hard not to share a thought for Dylan's recent Sinatra expedition. There is obviously a great deal of inspiration these men have lifted from music of years gone by, still on their minds at moments of less purple song-writing patches.
The record continues in a similar vein. There are the slow tracks, the ones that romantically take us back in time, and the livelier numbers ('Let's Call The Whole Thing Off', with Cyndi Lauper) that expand the spectrum of tempo and feelings. It doesn't feel like a project to pass the time, it's truly splendidly executed, and yet another special addition to a catalogue that for many will still end too soon. It's hard not to smile. Mr Nelson has done Gershwin justice, not only that but he has taken us on a perfect voyage back in time. It's hard to come back to 2016 when it all ends. Whether you like cover records or not it cannot deny that this is a whole world of fun.