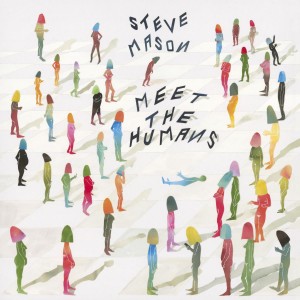 Steve Mason's plumbed the range of human emotions in recent years. Once of High Fidelity-featuring, boiler-suited experimentalists The Beta Band, his last album was 2013's double-length Monkey Minds In The Devil's Time. That was a skulking, snarling, dog of a record which dug satisfyingly into ska, gospel, dub and hip hop, laced with biting political commentary. It came on the heels of 2010's equally dark Boys Outside where Mason's enemies were personal and his battle with depression stark.
Meet The Humans is the sound of the Scot making peace with himself and his surroundings following his relocation to Brighton. Produced by Elbow keyboardist Craig Potter this is a pop album in the best sense of the word that rekindles some of the sparkle of his erstwhile collective.
Opener 'Water Board' has a dancey shuffle not a million miles from Madchester with Mason urging, "Cause you can make it….don't think this pain is forever". The bright start continues with 'Alive' which you could imagine The Beta Band-influenced Django Django tucking into with aplomb.
There's still plenty of introspection. Mason unveils a glorious chorus on 'Hardly Go Through' confessing his helplessness without his lover. The track crescendos with a mighty shoegazing guitar and string passage, Potter's influence pleasingly obvious.
When they happen, the dips are short-lived: the grey 'Through My Window' threatening to stall proceedings before 'Planet Sizes' cranks things up with its insistent rhythm and (another) huge, wide-eyes chorus which has the singer beaming, "the universe is mine".
By the time final number 'Words In My Head' is ushered in with an 'Unfinished Sympathy'-style drum loop it's clear Mason's turned a corner. Meet The Humans is an open door definitely worth pushing.
Words: Pete Bate
@petebate