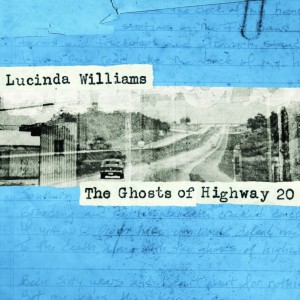 Just 18 months after one of her greatest achievements, Lucinda Williams returns with The Ghosts of Highway 20, a meaty concept album which the Louisiana songwriter has not merely gotten her teeth into but excelled at. Her list of accomplishments as a musician and songwriter never seems to end, and nor, it seems, does her motivation.
Interstate 20 stretches from west Texas to South Carolina, where it links with I-95 for those heading on to Florida. Along the way, it weaves through the north of Lucinda's home state, and this is where these songs call home. The settings are dusty and real, ugly and beautiful, and full of life teeming out of the buildings alongside and the connecting streets. The stories are told expertly, every note dripping off her tongue as if it matters dearly.
The record is a quieter affair, not as visceral and brutal as its predecessor Down Where The Spirit Meets The Bone. Where that offered a balance between her rockier side and her more tender side, this is a thorough exploration of the latter. The mood is quiet bar for the odd track that shakes from from the pain, the longing and the wastelands which depict the heart's devastation. The pain is what only seems to grow over every record, how she encapsulates the heartbreak, the key human emotions that portray exactly that – how human we really are. It may be mostly quiet, but it's breathtaking.
Listening to this in full is going to put demands on your time, with this double album clocking in at well over an hour and the final track, 'Faith and Grace' almost thirteen minutes long. The closer is a colossus, weaving and bobbing, growing and shrinking, chasing its tail gloriously. There are never any half-hearted efforts from Lucinda, and she remains as ever an artist wearing her heart on her sleeve. You really have to say, 'What heart!' as she takes you to places few musicians truly can. There's a genuine pull in her voice that somehow seems to get ever more real with time. She might not be able to hold the notes she once could, or wield her voice with the same ferocity, but something informed by wisdom and experience and love lives in her voice that makes her as close to a master storyteller as one could imagine. When she sings 'death came,' somehow it doesn't even sound that bad, enticing us toward it even, just another part of life and the endless cycle.
Her band of backing musicians is of the highest order and matches her at every delightful turn across these 14 new tracks, just as it did on her previous effort. Bill Frisell even adds his magic. The accompaniment is reliable and yet exploratory. Music rarely if ever gets more real than this, the nuances of each emotion beautifully painted on the canvas by this group of musicians, Williams' voice providing endless shades of the same colour.
Looking back over her career thus far, so soon after what might arguably be considered her masterpiece in Down Where The Spirit Meets The Bone you could forgive her for disappearing for a while to plot a next move. The high quality here adds to the sense that she belongs among America's finest songwriters of the last 50 years, and one of the finest you can come across anywhere working in music today. It's never been any different from this consistently brilliant and inspiring artist. While it doesn't quite feel like another classic, for now, it is however a treasure trove of goodies for those who like authentically made songs. There are some real pearls here and no filler. Enjoy Lucinda's ghosts, even they have a way of sounding appealing.