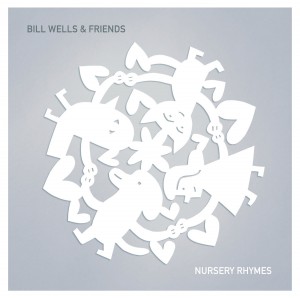 When he's not working on late-night misadventures with ex-Arab Strap frontman Aidan Moffat, prolific pianist, bassist and arranger Bill Wells is knee deep in fascinating projects like this one.
It's a simple idea – get a roomful of avant-garde artists to lay down an LP of nursery rhymes in New York. Enter stage left Yo La Tengo, Isobel Campbell, Norman Blake and a host of other vocalists and instrumentalists who were in the locality.
What could've resulted in a creative mess is shaped into a coherent and inventive whole by Wells whose piano provides the record's jazzy spine aided by Blake's spacious production.
Yo La Tengo operate as the house band with Wells on most tracks and, after the relative safety of their recent Stuff Like That There collection, are back in scrawl mode on the outro to opener 'Three Blind Mice', frantic guitar mirroring the tail-less protagonists' panic. 'Humpty Dumpty' is also given a sinister twist thanks to Well's staccato piano, scraped strings and Amber Papini's clipped vocals.
But then there's the lilting warmth of 'Oranges And Lemons', sung by Syd Straw, and 'Rock A Bye Baby' whose "cradle will fall" imagery is belied by Isobel Campbell's angelic tones and glittering xylophone.
Two of the strongest turns are an emotional, sparse rendition of 'Ding Dong Bell' by 70s English songwriter Bridget St John, now based in New York, and a sparkly Japanese take on 'Twinkle Twinkle Little Star' from Deerhoof's Satomi Matsuzaki.
Saving the best for last is 'Ride A Cock Horse' where a trembling-voiced Blake leads Wells and Yo La Tengo in slow procession with the Teenage Fanclub frontman mouthing "she shall have music…" to fade. In an album full of famous words, one suffices here – beautiful.
Pete Bate
@petebate