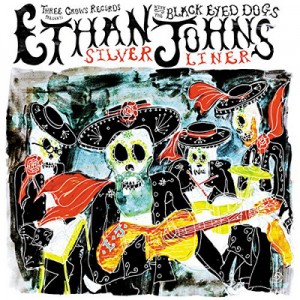 You have to admire Ethan Johns. Here is a man who could very easily have spent his days in the producer's chair, enjoying regular work from regular collaborators such as Ryan Adams, Laura Marling, Kings of Leon and Ray LaMontagne. Instead he took the plunge and has now made a trio of fine records in his own right.
In fact, Silver Lining may well be the best the 46-year-old has offered so far. This is the first record credited as being with backing band the Black Eyed Dogs, and it almost feels like the shared billing has loosened Johns' shackles and this is all the better for it.
While this is tasteful, as were If Not Now Then When and The Reckoning this feels more relaxed and more vibrant. That is nowhere more apparent than on the opening title track. It is over six minutes long but not a second feels wasted. The vibe recalls Everybody Knows This is Nowhere Neil Young & Crazy Horse. A groove that drags slightly, some meaty, squealing lead guitar work and a plaintive vocal. It is a fantastic song.
There is a pleasant jauntiness to the sprightly 'I Don't Mind', while the solemn piano ballad 'Won't Always Be This Way' recalls Desperado era Eagles. At times, some numbers feel almost too well-mannered for their own good, but any fears the album will become overly restrained are quickly dispelled for by album's stunning mid-section. When Johns and the band stretch out, unhurried and totally in sync with each other, the album moves to another level. 'Open Your Window' is a beautiful, flowing number that is easy to get lost in, sounding in equal parts Neil Young and Pink Floyd, if you can imagine such a combination.
It is followed by the marvellous '6 + 9', Desire-era Dylan, languid and encaptivating, before we are eased to the conclusion by the delicate finger-picking of closers 'Dark Fire' and 'I'm Coming Home'. In short, this is another accomplished offering from Johns, melancholy but packing a punch when the moment calls for it. This is an excellent record and shows he can more than hold his own, regardless of what side of the desk he is on.
Words: Andrew Gwilym