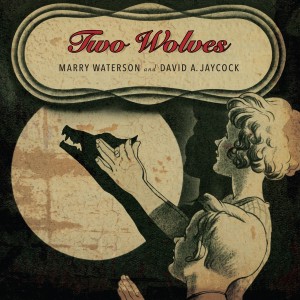 Marry Waterson is aiming to sing us all into her tune with her latest, Two Wolves, featuring collaborations with Big Eyes guitarist and composer David A. Jaycock. This isn't Waterson's first co-operation with a fellow singer-songwriter across a full album's worth of material; her debut and sophomore records were in collaboration with her brother, Oliver Knight. As with any great coming together as musicians would vary from the next, however, Waterson's work with Jaycock deviates greatly from the work that she had accomplished with Knight.
Waterson returns to a more ethereal, brooding design in her work with Jaycock as they act out their story as Two Wolves, the two exchanging lines both vocally and instrumentally that gel so well as to add to the surreal atmosphere set in place. To credit these two individuals only as products of their familial worth would be forgoing their own intrinsic tendencies to engage themselves in the development of an inventful number and perform it with the ruminating subtleties that only natural folk masterclasses could possibly accomplish. Their performance here is more than merely garnished by the presence of Neill MacColl and Kate St. John, each of whom add generously to the sweeping soundscape developed by Waterson and Jaycock with a slew of instruments ranging from extra guitars, piano, oboe, bass, accordion, and beyond.
The timbre and illusory tendencies that are scattered across Two Wolves' landscape are as mysterious and lilting as the canines themselves might be perceived. One would think that the record would peak on "The Honey & the Seaweed", all at once co-written with and an ode to her mother, Lal, from out of an old lyric left unfinished which Marry had discovered. Though a beautiful composition, there is substance to be found on each track, amongst them the notable opener "Sing Me into Your Tune", titular "Two Wolves", and gorgeously simplistic "Ginger Brown & Apple Green", in which it's only Marry and the birds collaborating in song.
Words: Jonathan Frahm