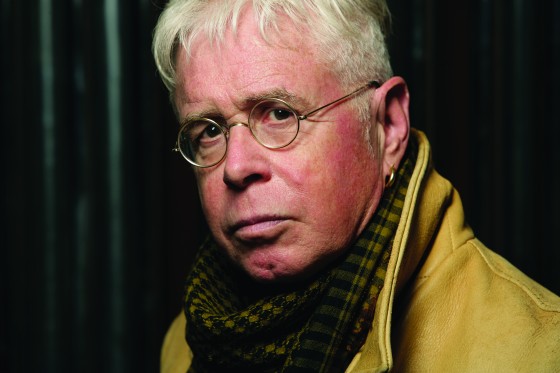 "The glory of God is man fully alive" – Saint Irenaeus, 2nd century
Bruce Cockburn, at 70, is fully alive. Although slightly bent by age, the Canadian troubadour remains a cult concern for his fans, who turn out in numbers on a drizzly Monday night for his return to the Black Country town of Bilston.
Cockburn's beat a poetic path through nature, Christian spirituality, politics, social justice and affairs of the heart since his self-titled debut album in 1970. As well as upsetting the establishment apple-cart, along the way he's been name-checked by U2, had albums produced by T-Bone Burnett and songs sung by Lou Reed, Elbow and many others.
Cockburn's not released a new record since 2011, instead channelling his energies into illuminating memoir Rumours Of Glory which came out last year. Explaining this from the stage, he admits to a slight bemusement at his newfound 'author' tag. The two-hour solo show tonight re-establishes the songwriter in his six (or 12) string natural habitat.
Decked from head to foot in black, with a thick mop of white hair, wire-rimmed glasses and shin-hugging combat boots, Cockburn opens with 'Last Night Of The World' and 'Night Train', both from his fertile late-90s period. He then plucks tracks from across his career with, perhaps unusually, a strong emphasis on earlier material including three songs from 1979 breakthrough album Dancing In The Dragon's Jaws and the even older, folkier 'God Bless The Children' and 'All The Diamonds In The World', the latter a nautical-themed account of his Christian awakening.
There's a lightness to Cockburn live which is often overlooked in the seriousness of his lyrics. After playing angry deforestation lament 'If A Tree Falls' the singer jokes "while we're in disgruntled mode – what's does it mean to be 'gruntled' anyway?" before launching into infamous F-bomb-dropping protest song 'Call It Democracy'.
With its call and response chorus, 'Wondering Where The Lions Are' is introduced with a humorous tale about how Cockburn learnt his distinctive guitar-picking style from blues legend Reverend Gary Davis who chided the fledgling artist: "stop playing with the guitar and learn to play the guitar!" Cockburn obviously heeded well, his expressive acoustic guitar filling the sound of two instruments tonight. The only support comes from two toy 'sleep sheep' borrowed from his infant daughter which provide an ocean-like, white-noise blanket around 'Planet Of The Clowns' and the instrumental 'The End Of All Rivers'.
The fact Cockburn has no time to play favourites like 'Pacing The Cage', 'World Of Wonders' and 'Fascist Architecture' is a testament to his rich back catalogue. He succumbs to one encore request, incendiary 80s US radio hit 'If I Had A Rocket Launcher', before exclaiming: "I hate that song!" Instead, his chosen closer is the psalm-like 'Lord Of The Starfields' with its plea: "O love that fires the sun, keep me burning". Bowed but undimmed, Bruce Cockburn's fully-alive pilgrimage continues with the singer, to steal his words, still kicking at the darkness until it bleeds daylight.
Pete Bate
@petebate