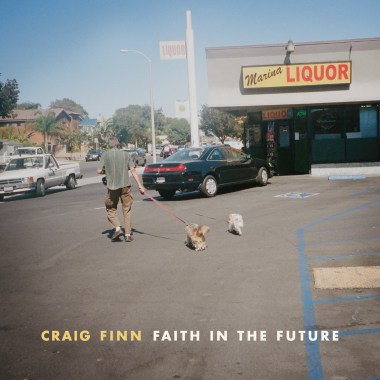 Hitting middle age was always going to be a test for The Hold Steady frontman Craig Finn.
Some 11 years after the barroom rock version of the E Street Band emerged from the wreckage of Lifter Puller, the now 44-year-old's lyrics reflect a more mature world view.
The Hold Steady's high point (circa Separation Sunday and Boys and Girls in America) was about parties, experimentation, religion, belonging and riotous youthful exuberance. A scene where even the not so cool kids get to feel like one of the cool kids. They were songs that got scratched into your soul (if you pardon the pun).
But, as Finn has grown up so his music has had to follow suit. The Hold Steady's last record, 'Teeth Dreams', vacated the bar stool for a shot at arena-filling slickness, while his previous solo album, 'Clear Heart Full Eyes', was strangely subdued, a step away from the communal to the private.
'Faith in the Future', written in the wake of the death of Finn's mother, mines a similar seam to 'Clear Heart Full Eyes' although it forgoes the country feel of the instrumentation in favour of a sole acoustic guitar.
On the one hand it is intriguing to examine Finn laid bare given how rare it has been to hear him this naked with The Hold Steady, despite the beauty of such fragile tracks as 'Citrus' off 'Boys and Girls in America', while the pleasing squalls of slide guitar and locked in drums do a good job of varying the tempo and steering clear of a one-paced drag.
On the other hand it means this lacks the immediacy of Finn's other work as he strives for a serious tone. It means some of the weaker numbers here feel rambling and inconclusive.
But, after all we are talking about one of America's best lyricists of the past decade, inevitably there are several sterling additions to the Finn cannon.
'I Was Doing Fine (Then a Few People Died)' is world-weary and wistful, the words of a man leaving behind the scene with a sense of resignation, while 'St. Peter Upside Down' harks back to the mixture of romance and religion typical of Finn's best work whilst carrying a troubling sense of exhaustion.
His vocal delivery is well-suited to the subject matter, Finn's characters sound lived-in, craggy. The emotions are tangible.
So, while 'Faith in the Future' is not without its faults and missteps, it sees Finn comfortably retain his place among Americana's best storytellers.
Words: Andrew Gwilym