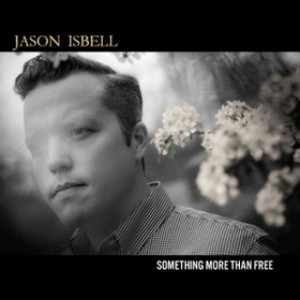 I'll admit, I was late to the party with Jason Isbell. Since he departed the Drive-By Truckers in 2006, and went sober 7 years after, he's led a widely successful solo career, but I didn't come across him until his 2013 release Southeastern topped a bunch of end of year lists. That got my attention, but at first I didn't really connect with it – at least with the exception of one song, the emotional juggernaut 'Elephant' which twists and turns through sexual desires, solitude, cancer, and death in a way no song I've heard before or since has.
But something kept me trying again and again, and sometime earlier this year, I finally got it and heard what everyone else was hearing – truly one of the best singer/songwriter albums of a generation, with choruses soaring from the songs unstoppably, epic singalong moments, impeccably paired with moments of sparse, aching intimacy.
Which brings us to follow-up Something More Than Free and the challenge of building on Southeastern's success. Lead single '24 Frames' is Isbell through and through, his lyrics spinning the story, articulated by clear phrasing, and a soaring lead guitar (with a tasty bass-line too). Album opener 'If It Takes A Lifetime' is a perfectly pleasant listen, bouncing along with an optimistic tone and setting up the rest of the record nicely. Other immediate stand outs include 'Flagship', the tale of a couple hoping not to become the aged, worn-out versions of themselves they see in an elderly couple in a hotel lobby, and 'How To Forget', a reflection of a darker fragment of someone's past brought up again unpleasantly, accompanied with repeated cries of the title and the plea of "teach me how to unlearn a lesson".
You get the constant feeling that Isbell is aware of how fortunate he is and the fact that he has been afforded the opportunities he has seeps into this record – even down to the title Something More Than Free. He spoke earlier this year about the concept of freedom being more about the freedom to decide, a means and not an end in itself, which is where many others seem to end. This moral awareness comes through with every lyric, from the humble "And I don't think on why I'm here where it hurts, I'm just lucky to have the work" of the title track to the devastating honesty of 'Speed Trap Town' where he recounts the desire to leave home and an unfaithful father – "Sign my name and say my last goodbye, then decide/That there's nothing here that can't be left behind".
Southeastern was a beast of an album to follow, the comparison a natural notion which can't be helped even if it doesn't do Something More Than Free any immediate favours. But as I found with Southeastern, albums that are growers have a way of finding a special place in your heart and your mind. Something More Than Free is the next step from a man whose career is a very clear reflection of his life. It's an album which comes from a place of optimism, sincerity, and appreciation, and an album which follows its predecessor in a way which distinguishes it enough to be distinct in it's own right, whilst following the very same path of strength going forward.
Words: Ollie Lucas