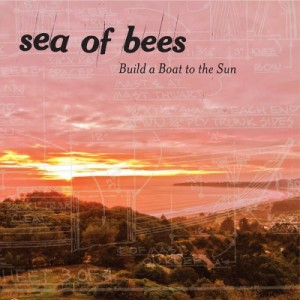 After her longing debut, Songs to the Ravens, and follow-up Orangefarben, about young love and broken-heartedness, Julie Ann Baenziger's Build A Boat To The Sun feels mature, healed or at least healing. Opening song 'Test Yourself' is incredibly Californian, all surf, sun, ambient washes and the layered voices of Jules and fellow band member Amber, like a chorus of hippy nymphs. It has a 60s-70s feel, all about falling apart in order to re-form, or live in flux, like the ocean. 'Karma Yard' shifts a little, lowering Jules' often high, floating voice to give a grungier feel, but it's still characteristically romantic and wide eyed: "the treasure of the earth is love" almost echoing Walt Whitman's Song of Myself ("a kelson of the creation is love").
'Old Bridge' is poignant, involved, quieter, nostalgic, while 'Ease' urges "Come out of your room and watch the sun shine for you". Sea of Bees could be viewed, cynically, as sentimental, but the soul-searching and positive reinforcement seems born out of confusion and pain. 'Don't Follow Me' sings: "All through life we wrestle the sea, what a sonofabitch", then learns to breathe through vicissitudes.
I find 'Little Sea' a bit steady and sedate, enjoying Sea of Bees' work most when they vary it a little, shifting rhythm or mixing low and high registers (the vocals usually swoop high at points of emotional tension, so it's refreshing when they experiment with the lower reaches of Jules' voice). Some of the strongest songs here are touching tributes to friends, or possibly invented characters, but they feel real: 'Dan' has traces of Radiohead in it, while 'Moline' is stripped down, strong: "You carry the weight of the world".
'Dad' is gentle and sweet, finding its path beyond parental influence: "now that I am older, I think I'll give it a try, your shoes are so big I don't think I can fit, there must be a place where I can find my own way, make my own devices". Creeping piano notes are especially effective here, but the final song of the record, 'Monk', is the most affecting and intimate, reminding me of The Lemonheads' 'My Drug Buddy'. It follows a friend "singing a junkie song: 'just a little bit more, I will come to a better place after this one'. I believed […] that you could float, closing your eyes, finding peace like a monk". It's very tender and sad, full of warm brass notes, burning and fading.