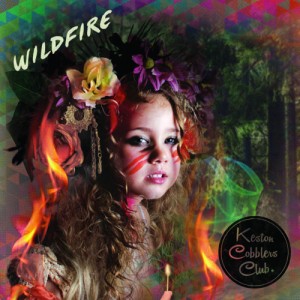 A band with a larger-than-life backstory (the 'cobblers' part of the name is said to come from a cobbler in the town of Keston, who, alongside other townsfolk, made music to make people dance, which in the process would ruin the heels of their shoes, and thus increase the cobblers' trade) have to be musically accomplished in order to be remembered for more than an original story, and here, on their 2nd record, Wildfire, the band have made a record which is not only accomplished, but a joy to listen to.
Having been championed by Steve Lamacq, taken on tour by the Leisure Society, and having gigged up and down the country, Keston Cobblers Club have steadily built a solid fanbase, and are set to curate their own mini-festival in celebration of the new record. Their endeavour-to make people dance-is evident by the jaunty nature of the songs included, least not the single 'Won't Back Down', which is toe-tappingly brilliant in its execution.  The brother-sister vocal duo of Matthew and Julia Lowe is a good blend, combining the ruggedness of Matthew with the delicate harmonising of Julia, and alongside the fine instrumentation of the fellow cobblers Bethan Ecclestone, Harry Stasinopoulos and Tom Sweet, each track is a delight.
The title track, 'Wildfire', sounds like it has come straight from the Lion King musical, especially the chanting at the beginning, and its insistent drum beat throughout is incredibly catchy. It is, by far, the best track the Cobblers' have written, and will go down a storm at the many festivals they are playing this summer, and this track alone deserves to send the band into the public consciousness. If there was ever a title for the Summer Anthem of 2015, then it is very likely this would be it. The band can do subtlety, however, evident on the reflective 'Half Full', a slow-build of a track focusing on the beautiful harmonies the band can create.  It is striking to note the vocal similarities between Matthew and a certain Marcus Mumford, and it is likely Mumford will be kicking himself that he hadn't written this track.
After two records, a handful of EPs, and successful tours around the country, Keston Cobblers Club have been too long a secret to the music world. Wildfire should go some way to addressing this. It is a pleasure to experience a band focussed on seeing people have fun. It is time to pull on the dancing shoes-Keston Cobblers Club will be dancing their way into your hearts and minds.