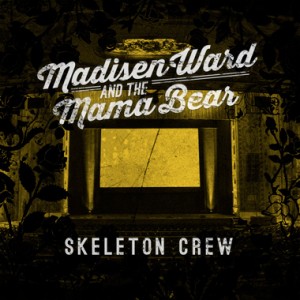 From the Missouri coffee-shop circuit to international recognition, it has been a whirlwind year for this duo. The storming single 'Silent Movies' lifted the pair from obscurity in this country to swift recognition via Later… with Jools Holland and is just one of a host of outstanding offerings on a very strong debut.
Consisting mostly of simple acoustic guitars and the pair's rich voices, with Madisen's bluesy croon to the fore, it is an album of simple delights in a time when production is so often placed front and centre – a credit to Jim Abbiss, the Arctic Monkeys collaborator on desk duty here.
The fact that "Mama Bear", aka Ruth Ward, actually is the mother of 26-year-old Madisen adds an extra dimension to her relationship advice on the amusing 'Whole Lotta Problems'. Other uptempo highlights include 'Daisy Jane' and opener 'Live By the Water', with extensive "oh-oh-ohs" and "ba-da-das" showcasing the pair's ability to get the most out of such vocal fills.
Equally impressive, though, are the several slower numbers – none more so that the album's centrepiece, the near eight-minute 'Fight On', a sad but stunning ballad based around the letters home of a soldier ill-suited to the arena of war. 'Undertaker and Juniper' is an unlikely love story between a beautiful condemned criminal and her hangman, while the evocative 'Down In Mississippi' and 'Dead Daffodils' hit their respective marks.
Appropriating such an iconic title as 'Big Yellow Taxi' is a bold move – the song is not a cover, though Joni Mitchell is a hero of Mama Bear – and the song is told from the point of view of a homeless man sleeping in the titular vehicle, while 'Modern Day Mystery' grows with repeat listens. There is a tendency to allow songs to run on longer than is perhaps necessary, but this is a glorious way to announce the pair's talent.
Words: Tom White