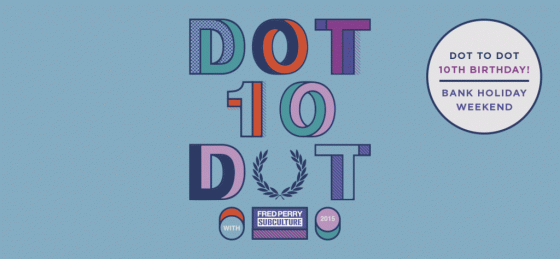 The Dot to Dot festival was celebrating its 10th anniversary this past bank holiday weekend, so For Folk's Sake decided to make the short journey south to Nottingham to experience one of the finest inner-city festivals in the country.
Now that Nottingham has a Rough Trade record shop, no trip to the city is complete without a visit, and so the day started exploring the racks, and spending more than we would have liked.  The first band on For Folk's Sakes' to-see list was Nottinghamshire based singer-songwriter Georgie, who has recently been attracting a lot of attention in the city's music scene. Finding a spot in the tightly packed Bodega bar, Georgie and her as of yet unnamed band played a blistering half hour set. The Dot to Dot booklet labelled Georgie as making '70's songs in the vein of Fleetwood Mac', although I think this does her a disservice.  Her guitar playing is much more refined and raw than the description alludes to, and it is easy to see comparisons with another very good guitar player-Laura Marling. Expect big things in the future from Georgie.
After emerging onto the streets of Nottingham once more, it was decided that a trip to the iconic Rock City should be made to see RHODES. Until this point, RHODES was an artist hitherto unknown to this writer, although a bit of quick investigative research found that ex Noah & The Whale singer Charlie Fink had produced some of his earlier EP's. Unfortunately, if Fink has been brought in to expand upon an acoustic sound, it appears that new producers had taken RHODES in a new direction, full of bombast and reverb laden vocals. Stripped back, the set would have provided a nice alternative to the 'heavier' rock sounds of the day.  RHODES could perhaps do with shedding a band member of two and concentrating on his obvious plus points-his voice and his lyrics, which were the strongest parts of his musical repertoire.
After a brief sojourn to one of the nation's leading coffee shops for a refuelling, it was onto the Rescue Rooms to see Laurel, an artist who the blogosphere has been talking about fervently since the release of her EP, Holy Water, late last year. Playing a short 20 minute set to an expectant crowd, Laurel impressed with her confidence, and her songcraft. The eponymous track from the EP went down well, and before this writer knew it, the set had flown by and it was onwards to see Daisy Victoria in the Red Rooms. Having experienced her set last year at Latitude Festival, this writer expected great things, and Daisy didn't disappoint. To the uninitiated, Daisy Victoria is a cross between PJ Harvey and St Vincent, wielding her guitar like an axe and having a commandeering effect over the crowd, she played recent single 'Heart Full of Beef' amongst others to a rapturous sea of approval, and left the stage having made a lot more fans from Nottingham.
A brief lull in proceedings led to a welcome break to stretch the legs and rehydrate, before heading back to Rock City to see Swim Deep, who were, quite frankly, utterly bonkers. Having had some success with their debut album in 2013, the band return this summer with the follow up, and the crowd lapped up songs both old and new.  Opening with 'King City', the crowd-fit to bursting- erupted into a mosh pit and didn't stop for the subsequent 35 minutes. Lead singer Austin Williams was a blur of energy and jagged dance moves, and kept the crowd enthralled throughout. It is obvious as to why a band like Swim Deep are successful, although this writer would have preferred if some tracks didn't descend into 7 minute long wig-outs full of feedback and noise.
It was up to Blackpool's Rae Morris to calm proceedings down afterwards. Having played earlier on in the day at one of the BBC's yearly roadshow events, held this time in Norwich, it could be understandable if the set was lacking energy, although there is no way this could be levelled at Rae, who for 45 minutes captured the crowds' attention, playing through her debut LP Unguarded and expressing her surprise at the amount of people who had turned out to see her perform. Rae need not have been surprised. Her talent is obvious, and she delivered one of the sets of the day.
Following Rae's set the plan was to travel to the Nottingham Trent University Student Union to see Best Coast, although, having walked across the city for the best part of seven and a half hours, this writer's feet were aching and fatigue was starting to sink in. A decision was made to head home and beat the rush, putting an end to another year of Dot to Dot musical exploration.