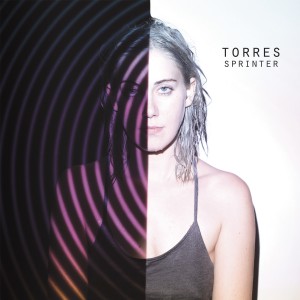 Torres' second long-player comes a couple of years after a debut brimming with promise and potential. Mackenzie Scott established herself as one to watch with a display of strength and energy, and the question was whether or not she could take it on and grow with her follow-up. The answer is yes, but good as this record is, it does not yet feel like the full realisation of her potential.
The artwork may show a more worldly woman than the wide-eyed, innocent face of two years ago, and sonically the record does something similar. It feels a bit dirtier, more experienced and full of honesty. But it is also the sound of someone still discovering herself – understandable at the age of 24. She has plenty more stops to come on her personal journey.
Sprinter features some incredible moments, but also others where it feels as though she is treading water or even holding back. It's a little too moulded in places, and there are moments when it feels as though it is not in her nature to be quite so restrained. Her voice is stunning, loaded with regret, and stained with the experiences of a young woman growing up. If the songs could capture that as well as her vocal performance, we would really have something. As it is, the songs cannot quite deliver on their side of the bargain – at least not yet.
Torres recorded this record at the studio of Portishead's Adrian Utley, and hooked up with PJ Harvey collaborators Robert Ellis and Ian Olliver on rhythm, and the influences of both of those famous names is clear. However, Torres has a strong enough identity of her own to avoid living in either's shadow. At its best, this record is very impressive, but having chosen to go with only nine tracks you feel the overall cohesion needed to be tighter.
There is no doubting what Torres is capable of, and it should be little criticism that she has not quite perfected it by her second record. She is surely building towards something brilliant, and this is an enjoyable way to spend the wait. Torres is a fascinating young songwriter.