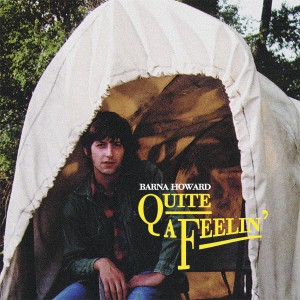 Portland, Oregon-based singer-songwriter Barna Howard made quite a splash in the indie folk community following the release of his self-titled debut album back in 2012. With the assistance of nothing more than a trusty acoustic guitar, Howard's initial piece drew many rightful comparisons to the early protest work of Dylan pre-Band, accentuating the ups and downs of love had and lost like a true traditionalist folk virtuoso. His 2015 follow-up album, Quite a Feelin', isn't a huge departure from those conventionally heartfelt themes and delivery that made him a sensation to begin with, but it does mark his first traversal into an actual studio recording experience.
Alongside producer Adam Sezler at Type Foundry Studio, the new album now features fuller, lusher instrumentation. The result is still instantaneously timeless, encapsulating an era bygone even in the folk industry as a whole, perfectly taking on the role of the traditionalist troubadour and wearing it proud. With further experience as a musician being kept under his belt since Barna Howard, Howard has, naturally, a bit more to say on his sophomore effort. Title track "Quite a Feelin'", for instance, encompasses the realities of being a traveling, touring musician feeling the loneliness and guilt of not being at home with the one that they love. "I'm a dreamer in a car/bein' on the road's quite a feelin'/but the feelin's right where you are," Howard longfully croons.
In full folk fashion, Howard maintains an intrinsic knack for getting under a listener's skin and finding a place to relate upon even if that may not be his intention when writing and performing the stories of his own life. An album full of songs most to do about personal love and life travels, Quite a Feelin' remains mystifyingly ubiquitous in how its heart can be felt by a broad audience. Howard is becoming dangerously close to not only relating to some of the 60's strongest folk offerings, but, with the coming of future releases to place under his belt, perhaps even besting some catalogs as a whole.
Words: Jonathan Frahm