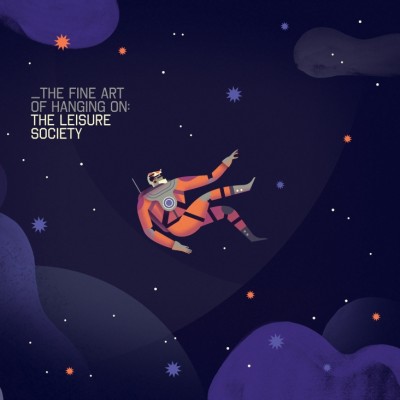 When a band like The Leisure Society releases their fourth album, there's bound to be slight trepidation. After being lauded by critics for their first three releases and being counted among Brian Eno and Ray Davies favourite bands, there's a lot of pressure to keep it up. The question lingers: can they do it again?
The album springs brightly to life with the synth-driven title track, but frontman Nick Hemming juxtaposes gloom-soaked vocals for the band's trademark sound. 'Nothing Like This' feels restrained, until it's decorated with airy flute, expertly applied. The track expands with well-crafted piano and bass.  'You'll Never Know When it Breaks' is stunning, with delicate guitar and echoed vocals creating a sparse, haunted intro and ending with the gorgeous sentiment "…we decided/To be artless and happy".
The Fine Art of Hanging On starts on a high, with multi-layered instruments and lighter vocals and slows circling to a stripped back ending. There's a clear progression from 2013's Alone Aboard The Ark, and the synth and drum machines introduced in album three are out in force in number four. Those longing for acoustic Leisure Society will be satisfied by the understated 'You Are What You Take' and acoustic guitar-driven final track 'As the Shadows Form', which harks back to the band's earliest days. Another solid showing.
Words: Stevie Pearce