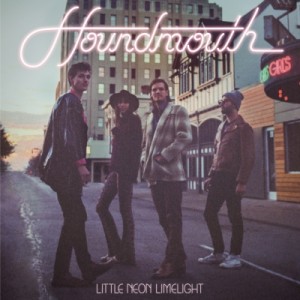 Little Neon Limelight is the exuberant, boisterous and utterly American second album by Houndmouth, from New lbany, Indiana. It swaggers along, with its repeated theme of restless travel from State to State, during which we meet along the way jailbirds, lovers, strange relatives and tales of drugs and misfortune, and quite a lot of gasoline. It's all terrific stuff, cut from the same roots as their first album but with an occasional wistfulness and melancholy that add a little extra to the mix. And in 'Sedona' there's a killer single to start with, a tale of the almost forgotten landscapes of desert Westerns. It's a brilliant worm of a song (except that in Arizona presumably they are snakes not worms) building up from a gentle pluck of electric guitarto its crashing climax. If you don't like it, you can move on because the album won't be for you. The rest of us will be stuck with the chorus long after the album is back in its sleeve.
Houndmouth feel and sound like a real band, where the singing duties are passed around its four members like a bottle round a campfire, occasionally even within a single song. The star of the show may be Matt Myers, who gets many of the best moments and whose restless guitar is really the fifth voice. But running him close is keyboard­player Katie Toupin, who gives the group's signature harmony choruses their earthy, country flavour. In close support and never far away from the microphone are the bouncing, rambunctious pair of bassist Zak Appleby and drummer Shane Cody. If sometimes, when they are all joined together at full speed, it gets just a little bit raucous, occasionally shouty even, there are some lovely reflective interludes to compensate: the album's next best songs are perhaps Myers's solo piece 'For No One', weary and with a hint of bitterness, and a new side to Houndmouth; and 'Gasoline', where Toupin mourns that she is burning up so fast that she'll meet her maker on a bedroom floor.
With its itinerant theme (try counting how many States make an appearance) the album must surely have been written on the road and recorded to sound close ­to ­live. As a result, these songs will probably sound better still in the flesh. Fittingly, Houndmouth's immediate touring plans are exclusively in the US, but when in due course they reach the UK, it will be a show well worth seeing. In the meantime, the album will do fine.
Words: James Garvin