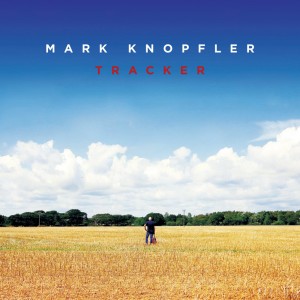 Mr Knopfler needs little introduction. Dire Straits were one of the biggest and best bands of the 80s, while his solo career has been far more than just a vanity project. He is of course one of the most gifted, unique and magical guitarists Britain has ever produced. His style of playing is so soulful and special it lights up everything he creates.
With age comes wisdom, knowledge and comfort, and all of these are deeply rooted in his current work. So, to his eighth solo record Tracker. It's the sound of a talented musician growing old gracefully, proving himself to be consumed by music and its power. The sound is perhaps even more mellow than ever before, which is no bad thing. It opens with jazzy Irish-style number and the folk inflections of 'Mighty Man' – songs that are full of sentimental wishes to rewind the clock.
Knopfler is unlikely to win any new admirers here, but this record proves he still listens to his own heart and soul and it's reflected in everything he does. He may have been afforded such a luxury owing to his past band, but he only seems to respect how precious his position is and to look forward to what he can do next, to a bright and hopeful future. It shows. You really feel that from listening to his music, and this album is no different. While it isn't the wildest or best album ever (or even of Knopfler's own career) it's solid, beautiful and charming as ever. It also feels like some of the most honest music and storytelling you are going to come across.
The wah-wah pedal in the funky 'Broken Bones' gives the album its most danceable moment. It is stretched out to the point of being hypnotic, and changes the vibe of the album to something much livelier. It's a welcome change of pace. 'Beryl' is the obvious choice as the lead single with a guitar lick straight out of the back catalogue, striking a chord with listeners new and old. The song is a tribute to deceased British writer Beryl Bainbridge, focusing on what people do in their lives and how they aren't acknowledged until after their passing. It's a powerful statement, and should make everyone consider just what is being missed while following the crowds.
Knopfler has always seemed to possess a masterful control over his guitar and the restraint he shows here is a powerful tool in building songs. He knows just playing is easy, but it takes real thought, intelligence and expertise to know where and when to add flourishes that truly light up his songs, as if they were paintings, and the final piece is the frame that defines the whole work. It's a class act indeed, the way less is often more, and it's the same method that is applied perfectly throughout.
The cover shows Knopfler in a field with fluffy white clouds and a peaceful bright blue sky above. It permeates a deep sense of what lies within the record, a man at peace, with his abilities, with his life and the world he lives in. Yes, he is growing old, but he makes it sound like something to embrace and not fear. It's a beautiful angle and has a wealth of music that any fan should hear. Beyond existing fans Knopfler could bring peace to some who don't find it so easy to attain. Not a classic, but nevertheless a gorgeous record. At this stage of the game, to be producing this quality of work is highly admirable and should be an inspiration to all. As with the message of Knopfler's 'Beryl,' it's sure worth appreciating at the time and not just afterwards.