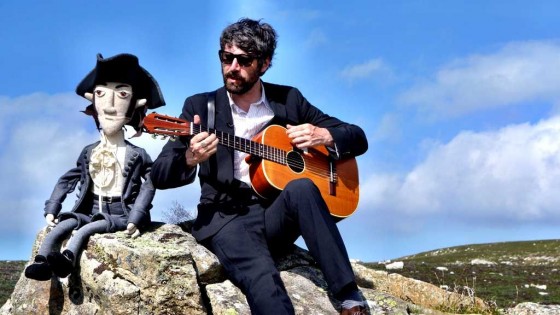 Whether as the frontman of Super Furry Animals, through his synth concept albums with Neon Neon, recent film score work or genre-straddling collaborations with the likes of Gorillaz and Mogwai, Gruff Rhys has always displayed a pioneer spirit.
Last year's 'American Interior' album (film, book and app) took this to new levels as he followed the tracks of eighteenth-century ancestor John Evans who left Wales in search of a lost tribe of Welsh-speaking native Americans. Rhys lands on the shores of King's Heath in Birmingham with his four-piece band, giant stage cacti and felt Evans action figure to play to a sold-out Valentine's Night crowd.
The singer takes the stage to introduce a documentary about the mythical Madog tribe Evans was seeking before he returns with his group which includes ex-Flaming Lips' drummer Kliph Scurlock and three parts of Welsh surf-rock outfit Y Niwi. They launch into the title track of 'American Interior' which forms the majority of the main set. Between each song Rhys takes the audience on a Power Point presentation of Evans' adventure, his deadpan delivery and humour-laden pathos with the explorer's thankless task which led to his death at 29 drawing a patient response.
The storytelling means the evening has a stop-start feel which doesn't allow the band to bulld a head of steam. But the inventiveness and playfulness of Rhys' songwriting bursts to life in the dance stomp of 'Allwedellau Allweddol', a sampled manic choir blaring from the record turntable at Rhys' elbow. Meanwhile, 'Walk Into The Wilderness' is a soulful heart-breaking slow-burner in the tradition of Super Furries' ballads like 'Fire In My Heart'.
After a chaotic finale of '100 Unread Messages', which sees Rhys momentarily forget one of the many verses, the band's post-presentation encore stretches towards midnight – finally allowing the audience off the leash. Fans' favourite 'Sklyon' tells the comedic tale of an avoided airline explosion over a 15-minute sweaty psychedelic folk groove driven by Rhys' Spanish guitar. It's soon followed by possibly the first Welsh cover of 'Paranoid' in Black Sabbath's home city and a riotous 'Gyrru, Gyrru, Gyrru' which sees Scurlock, who has been outstanding all evening, explode in a mass of hair and ever-quickening beats.
So, a game of two halves – one informative and the other exuberant. Who knows where Rhys will take us next?
Words: Peter Bate