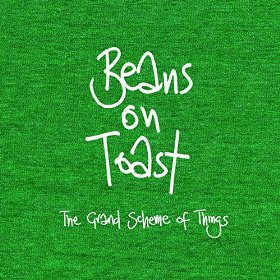 Beans on Toast can be an acquired taste. I don't mean the light lunchtime snack – most of us have enjoyed that since childhood – but the singer-songwriter. His lo-fi folky ramblings come with pretty basic vocal stylings, an overwhelmingly heavy Essex accent and rather a lot of swearing. More of that in a bit.
But here's the thing. He's funny. He talks a lot of sense, in his unique way. And his live shows have rightly built up a cult following. During a power cut at Glastonbury he wandered to the edge of the Shangri-La stage to play an acoustic set. His Facebook and Twitter pages are loaded with photos of him in among the crowd, grinning away. And when I saw him at Standon Calling a couple of years back, he set up out in the middle of the tent only to be forced away from the microphone by an inquisitive wasp.
So what's on his mind this time around? Well, for a start, drugs play less of a part than on previous records ("I don't do MDMA no more but I do still sing that song," he proudly claims on 'The War on War'). His political side is still to the fore, labelling UKIP "just the BNP in a different dress" on 'A Whole Lot Of Loving' and tackling the gentrification of London on, er, 'All I See Is Wagamama' and the ethics of genetically modified food on the deeply odd but entertaining 'Chicken Song', with its marvellous and explicit sci-fi coda. He does at least acknowledge, though, that his plan to resolve the Gaza Strip conflict with a rave party at which his mate Mike could DJ and "drop some heavy shit" might be "a fucking stupid, ignorant idea".
"Songwriters like me are two a penny," he notes on 'Fuck You Nashville', a far better career-orientated song than album opener 'Folk Singer'. 'NYE' has seen the light of day at just the right time – although it's no match for Simma, and including the line "Welcome to the last verse of the album/I'll be amazed if anybody got this far" is hardly going to give the song mass appeal in its own right.
His good lady's talents in the kitchen are the subject of 'Lizzy's Cooking', a real oddity. I can see how if you're Lizzy, and Beans walks into the kitchen with his guitar and comes out with that, it's probably quite cute and funny. I'm not convinced it's much use on an album though. Much better is the album's other outright love song, 'NOLA Honeymoon', while the love of family and friends is the focus of – now, you thought 'All I See Is Wagamama' was a weird title? Check this thing out – 'Flying Clothes Line'.
Quirky, witty and sometimes tender, this is an enjoyable album containing the good, the bad and the sweary which have combined to make Beans on Toast such a likeable, if niche, artist.
Words: Tom White