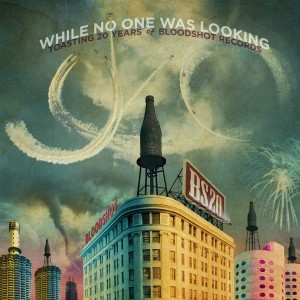 Twenty years ago, Nan Warshaw, Rob Miller and Eric Babcock founded a roots, indie and punk rock record label in Chicago, self-funding a debut compilation release featuring artists from clubs and independent labels around the city. The booming country scene in Chicago at the time was captured, documented and released on a wing and a prayer, entitled For A Life Of Sin: A Compilation of Insurgent Chicago Country.
Two decades later and the impact the label has had on many of today's artists is celebrated in another collection of eclectic tracks that see the likes of Blitzen Trapper, Frank Turner and Chuck Prophet cover songs by such friends of the label as Ryan Adams, Nora O'Connor and Alejandro Escovedo.
Whether it's the foot stomping opening of Blitzen Trapper's cover of Adams' 'To Be Young,' the edgy and passionate performance of Samantha Crain on Ha Ha Tonka's 'Cold Forgiver' or Dave Davison's vulnerable 'Things I Didn't Say,' originally by Bobby Bare, Jr.'s Young Criminals' Starvation League, there's almost a guarantee that you'll unearth new treasure here.
It's clear in the performances of the artists involved that Bloodshot means a lot to so many people and the tributes given through song are heartfelt and true.
At thirty-eight tracks long, this is the ultimate soundtrack of an underdog that deserves every bit of publicity that this album will bring. It's a tremendous celebration of a label that produced, and continues to produce, sheer magic. Here's to twenty more years of this!