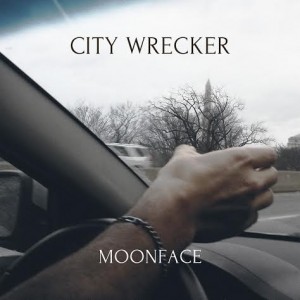 The new Moonface release feels like both an album and an EP. There are five songs here, with the final two totalling over 19 minutes and the stretched-out length doesn't feel much like an EP as we know it. But with five tracks, it's some kind of halfway house between the two.
Whatever City Wrecker is, the music is enough to wow us, and contains strong signs that the artist making these songs has a very special and singular ability to pen heartfelt and moving music. It's minimal, with the voice and piano seeming sparse and delicate, yet it gives a feeling of being a remarkably safe pair of musical hands.
A year on from the highly acclaimed Julia With Blue Jeans On, Spencer Krug's third album under the Moonface moniker, this EP is further evidence that he's found his sound and groove. There is much here to revel in. There are moments when the hair stands up, and it feels like being in the presence of something truly wonderful. For example, the piano flourish at the end of eight­and­a­half minute 'Helsinki Winter 2013' is an incredible way to end a track that has both mystified and spellbound those that might have had the fortune to happen upon this release.
'The Fog' opens with eerie piano and soon the mournful voice of Krug enters the fray. It's a captivating combination, certainly demanding instant attention. The clarity of lyrics is powerful indeed, and repeated lyrics drive a forceful message home, before whirling synths create another dimension to the track. It then falls back into the piano and vocal part, before the synths again seem to lift the listener to another place entirely. The now repetitive lyrics also seem to create a swirling pattern around the listener, almost like being taken away in the eye of a hurricane before it is all over. Second song 'City Wrecker', the EP's title track is a more delicate affair, not quite as confrontational. Also, with a charm of its own. It is very sparse indeed, and minimal enough to feel like he could be sat in the corner of the room, playing this to you.
Track three is darker altogether, until the song's title 'Running In Place With Everyone' is recited over and over twisting the mood into something slightly more hopeful, and final track, the 10 minute 'Daughter of a Dove' is again another pop symphony that requires patience and effort to appreciate.
Overall, the EP has enough to satisfy those who fell in love with Moonface's last record and are excitedly waiting the next full length release. It is unlikely to win many new fans, but there is no doubt it works well enough to show off the man's existing and ample song writing talents. It's definitely worth checking out, and you can decide for yourself. There is something here to discover, for sure. Even if it is just trying to work out if it really is an EP or an album.