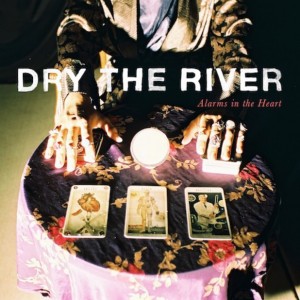 Returning with the follow up to 2012's Shallow Bed, Dry the River have created an album much fuller in sound and vision in Alarms in the Heart, which should see them please old fans and attract new ones along the way.
It is hard to pinpoint the exact sound of Dry The River. At their best, they sound like the National, the instrumentation designed to bring out emotions in the most cold hearted individuals, driven by melodies which soar and the yearning falsetto of lead singer Peter Fiddle.  It works because the band are technically gifted, driving each song forward with precision and restraint, moving away slightly from the bombast of several tracks on Shallow Bed.
Stand out tracks include 'Roman Candle', an angst-ridden duet with Scottish singer Emma Pollock, their voices harmonising on the proclamation that "my light never burned that bright", and 'Med School', full of verve and vigour, with a chorus which will undoubtedly go down a storm live.  These are songs designed to act as a catharsis, to sing loud, to purge any bad feelings.  Restraint isn't a word commonly associated with Dry The River, and the band are all the better for it.
'Gethsemane' is another track to catch the attention, opening with the aching falsetto Liddle possesses, before bursting into life as the chorus line kicks in. It is stirring stuff. 'Rollerskate' follows, and is no less dramatic, as Liddle repeats the refrain "I couldn't want you more", his voice breaking as the song closes, the line still being repeated.  It would take some iron will not to give yourself over to the music, especially when it is this good.
What Dry The River have done on Alarms in the Heart is create an album which is immensely enjoyable and different to what is on offer in a saturated market.  The band prove here that sometimes, less is more is the wrong way to approach things. If you are going to eschew subtlety, then you may as well aim for sing-alongs and arms-aloft moments, both which are plentiful here. A great record from a band who deserve to succeed.