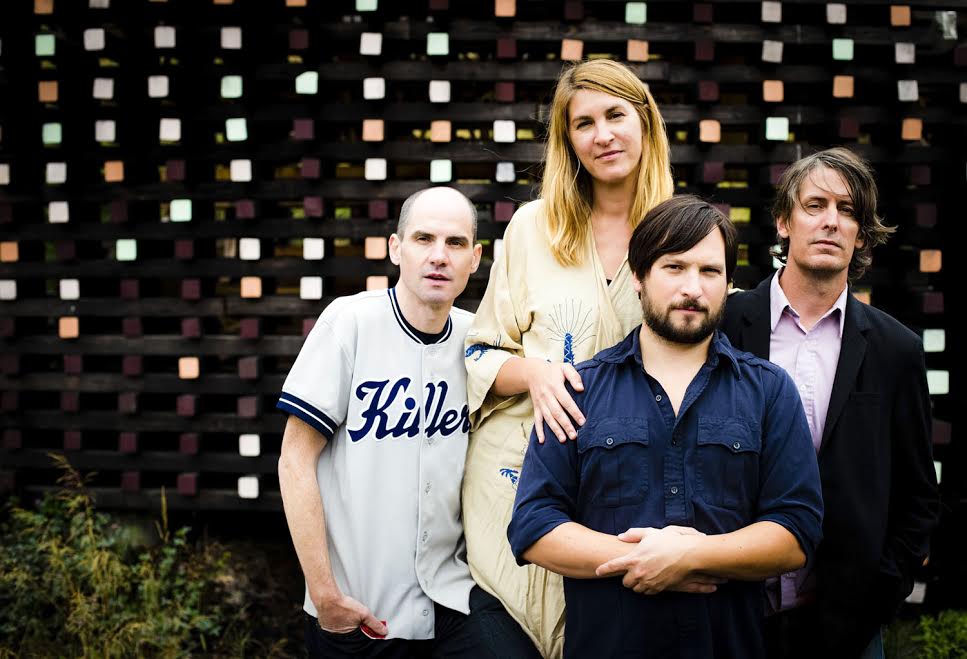 We make no bones about our love of Stephen Malkmus in our house, and so I was beyond excited to find he was heading to Brighton with his goofy-brilliant band The Jicks to debut material from their latest album, 'Wig Out at JagBags'. Malkmus' songs, both with the iconic 90s wonderband Pavement and in his newer outings with the Jicks, now on their fourth album, are always slanted and enchanted: a mix of irresistibly golden guitars sloppy with summer time and kaleidoscopic wormhole lyrics full of flashes of humour and insight. I was dying to see the lanky and brilliant king of slacker-rock in the flesh.
The Old Market, weirdly anthropomorphised as 'TOM', is a really great venue. Tucked away off the main Hove drag, it's one large square fuss-free room ideal for moshing and snogging, and the bar sells servings of Cadbury's chocolate buttons in the most gigantic ramekins this reviewer has ever seen. Buoyed up on theobromine and sugar, we drifted through to listen to the awesomely angular support, Mazes. With shades of hook-heavy 90s alt-rock and plenty of singable choruses, Mazes are also tighter and heavier than their musical grandparents. Their new album Wooden Aquarium is out on FatCat September 8th and I'm going to buy it.
Rumours of Stephen Malkmus' aging have been greatly exaggerated. As the wise guy in the scarf enters stage left it's hard to believe he's nearly 50, and if he's feeling his age he's not showing it. He's still a joker: name-dropping the Fillyjonk, Tove Jansson's neurotic creature from the Moomin books, and telling us about how he gets his daughters to name his songs. Beneath the fooling around he's also keen as a knife, and Wig Out at Jagbags is just as puckish and shrewd as anything else he's done.
But just like those people who make endless references to their in-jokes while you smile awkwardly and politely, there's something about Malkmus and the Jicks that keeps you at a distance. Whispers and sniggers on stage, obtuse lyrics, perverse signature changes and contrary arrangements abound. And despite the audience falling over themselves to laugh at his jokes, his comments on Brighton being full of 'rich stoners' left the room quietly bristling and Joanna Bolme, the bassist, looking anxiously at drummer Jake Morris before they pushed on. It seems like even his bandmates aren't quite sure what's coming next. I read an interview with Malkmus where he said he didn't think Lou Reed had to be nice because he was a genius. So maybe he knows his own worth, and like a musical Good Will Hunting gets a kick out of being difficult. Maybe it's part of the game. Maybe he really doesn't care.
But somehow he gets forgiven. Perhaps it's because there's a soul of such sweetness to the best of his writing, a lightness of touch and a deep appreciation of loss that somehow survives his endless whack-a-mole joking and the noodly elusiveness of his guitar. Take Lariat's tongue-in-cheek, nostalgia-steeped 'we grew up listening to music from the best decade ever'. Or the chorus of 'Cinnamon and Lesbians': 'Life should be free/Take what you need'. The good old days are still tangible for Malkmus: maybe that's why he's never wandered too far from the gold sounds playground of his youth. 'Wig Out at Jagbags' is in many ways classic Malkmus. There's not much new here, but the band, their music and their aging Peter Pan are timeless and teenage and always beguiling. Everyone needs a holiday from being a grown up once in a while, and I've got to say, lazy guitars, bum jokes and chocolate buttons do it for me.
Jen Rouse