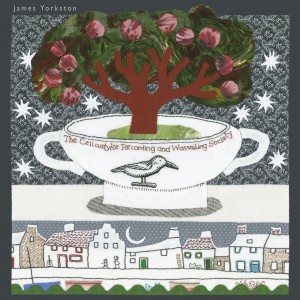 James Yorkston's eighth album is a delicately beautiful affair, much in the vein of his earlier offerings. Produced by Hot Chip's Alexis Taylor and with additional vocals from KT Tunstall, it is an intricate melding of melancholic melodies and guitar, with the almost ghostly touches of steel pans provided by Fimber Bravo. This may sound trite in description, but the result is a diaphanous blend, perfectly balancing Yorkston's gentle ruminative voice with the interweaving of instruments. An evocative, contemplative album – but one for a certain mood, for a certain time.
The title refers to a small Scottish coastal town, and in this potrayal essentially of mortality through the window of small town life, we find both the prosaic and the profound. Yorkston is foremost a storyteller and a wordsmith, drawing detail from the most banal of encounters and presenting poignant portraits of frustrated dreams writ small.
'Guy Fawkes' Signature' is an immensely enjoyable spoken word track, sewing together the unlikely subjects of an overbearing insistent neighbour and the crippling torture undergone by history's favourite bonfire guest. This is what Yorkston masters so well, treading between the immense and the minute, avoiding the empty grandiosity that so many songwriters fall prey to.
Easily the most powerful track on the album is 'Broken Wave', a painful eulogy to a lost friend fallen on hard times to whom the promise is made to remember him as he was, not as he was at the end. The eponymous metaphor is emblematic of the beautifully simple yet powerfully evocative imagery Yorkston is capable of.
This is a langorous album to be enjoyed late at night with a brooding whiskey (or two); although, at a marathon 16 tracks, it's perhaps too long for one sitting.
Words: Sarah Sharp